Disney Dreamlight Valley Missions in Uncharted Space content update details, trailer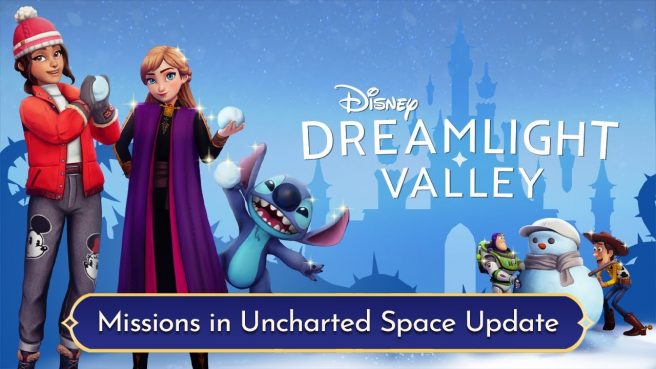 Gameloft has shared concrete details about what's actually included in the Disney Dreamlight Valley Missions in Uncharged Space update as well as a trailer.
Patch notes were shared yesterday for the technical side of things, which can be found here. Today's post goes over the addition of Bonnie's room as a new Realm with Buzz Lightyear and Woody, the new Festive Star Path, seasonal content, and changes brought on by community feedback.
Here's the full rundown:
Shrink down for a new Realm adventure!

It's no secret that a new Realm door is unlocking in the Dream Castle – this time leading you to Bonnie's room, the current safe haven for a familiar pair of toy-sized heroes; Buzz Lightyear and Woody! What's more unique is that when entering this Realm, you may find things larger than life – or that you've shrunken down to toy-size! For a sneak-peek of what awaits you, check out our previously released trailer shared during the 2022 games showcase at the D23 Expo!

Once Buzz and Woody return to the Village, you will help Woody learn the magic of childhood memories and help Buzz as he enlists the support of Dreamlight Valley's residents to establish its first Star Command outpost. You're also in for a surprise as you help uncover the source behind some village mischief alongside Donald Duck, culminating in a new resident from beyond the stars!

A new Star Path begins!

In addition to decorating your Villages with homes for our new heroes from Disney's Toy Story, you'll also have plenty of opportunities to get into a festive mood with the release of the new Festive Star Path, filled to the brim with new and exclusive items to help you get cozy and warm in Dreamlight Valley.

Besides new clothing, furniture, and accessories, the Festive Star Path also includes the all-new Dream Styles feature that allows you to outfit both Mickey Mouse and Merlin in special festive "Dream Style" holiday fashions.

Seasonal Content

Will you build a snowman, explore the chilly peaks of Frosted Heights, or discover new festive recipes with all your Disney and Pixar friends as you celebrate the holidays together? It's up to you in Missions in Uncharted Space – but know that we're not stopping there. With the holidays on the horizon, you can expect festive activities later this December to celebrate the season of giving!

Community Driven Changes

We're so excited to share this absolutely story and content packed second update with our fans – but what's more is that we've also made sure to listen to your thoughts and take the time to shape the game with our players feedback in mind. Here's just a few of the changes and additions that you can expect in this Update:

We've added a Day/Night toggle so that fans from every time zone can choose to enjoy Dreamlight Valley's sunsets and sunrises as they choose! This is a visual change only, and will not affect gameplay.
Previously unlocked by players in our Wishlist Campaign (link to blog article) – the first Character Skins are available in the Valley! You can find two new 'Dreamlight Styles' for Merlin and Mickey available in the Festive Star Path.
Worried about the environmental concerns of leaving your lights on in your home? You can now toggle floor/wall lights on and off.
You can now hang out with Ariel! We can't wait to see your adventures together.
It looks like Kristoff expanded his stall offerings – you'll now find other purchasable materials on sale, including iron ingots.
Want to unlock your entire Star Path immediately? Optional Moonstone packages are now available for purchase.
We have a trailer for the Disney Dreamlight Valley Missions in Uncharted Space content update below.
Leave a Reply