Divinity: Original Sin 2 dev on bringing the game to Switch, chances of Baldur's Gate 3 port, more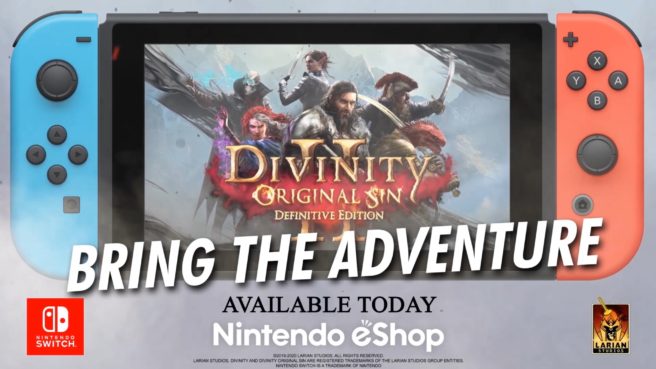 Divinity: Original Sin 2 – Definitive Edition made it to Switch last month. Larian Studios ended up releasing the during the last Nintendo Direct, which definitely came as a surprise.
Larian Studios founder and CEO Swen Vincke spoke with the IGN Nintendo Voice Chat podcast crew about bringing it to Switch, calling it an "experiment" since there was no guarantee it would be technically possible. For awhile, they weren't even certain that it would release. BlitWorks handled the port, and the team started working on it around last year.
Vincke personally likes having games like this on the go, but says the challenge in porting lies with the system's lower GPU and CPU specs compared to other platforms. A lot of effort and a few compromises were needed in the end. However, splitscreen multiplayer was unfortunately dropped.
One of the unique features of Divinity: Original Sin 2 – Definitive Edition is cross-save support between the Switch and Steam versions. Regarding that multiplayer functionality, Vincke noted:
"I am super happy that we got the cross-saves to work, because we're the first game to feature it – cross-saves between Steam and Switch. But it's also the fact that we got Nintendo and Valve to talk to each other, get all of this going. This all started at breakfast with the guys from Steam and we said, 'Why can't we do this guys?' And they said, 'Yeah, why can't you?' What does that mean? We went to Nintendo and said, 'Why can't we do this?' And they looked at each other and said, 'Yeah, why can't we?' And then suddenly things started happening and they were really awesome about it. So I'm really happy about that."
Vincke also commented on the possibility of the original Divinity: Original Sin coming to Switch. It's something the team has "talked about," and while it's not impossible, there are no current plans since a ton of work would be required given that the title runs on an older version of their engine (2.0 compared to 3.5 for Divinity: Original Sin 2).
Finally, Vincke had this to say when asked if we could see Baldur's Gate 3 on Switch:
"I honestly don't know. I don't know what the next Switches are gonna look like. On this particular Switch, that might be a bit problematic. There are quite a lot of upgrades that have been done on BG3, so I think it would be very, very hard. But then again, never say never. You never know. Maybe we'll figure out some magic trick and it'll work. I just hope personally as a fan the next Switch will have triple the power and triple the battery life. It's an amazing device. I just hope it has a very long life with lots of upgrades that we can keep on playing all the games we're playing on other consoles when we're on the go."
Leave a Reply