Doctor Who: Duo Bundle Switch physical release revealed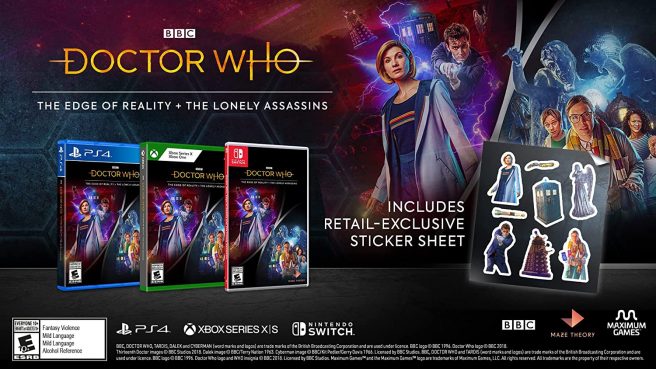 Doctor Who: Duo Bundle will be sold at retail as a new Switch physical release, it's been revealed.
The package contains Doctor Who: The Edge of Reality – Deluxe Edition and Doctor Who: The Lonely Assassins, both of which were previously added to the eShop. Fans will also be provided with an exclusive sticker sheet.
Information about both titles can be found below.
Doctor Who: The Edge of Reality
Wield the sonic screwdriver as you join the Thirteenth Doctor (voiced by Jodie Whittaker) on a quest to save the universe, and meet the Tenth Doctor along the way (voiced by David Tennant in a guest appearance).

Experience an unforgettable adventure through space and time, face terrifying monsters and solve a mind-bending mystery!

ORIGINAL DOCTOR WHO STORY

Enter the Chaosverse, where reality itself is threatened by a series of time-breaking glitches, and partner with two formidable Doctors as you seek to uncover a deeper mystery.

NEW NEMESIS REVEALED

Confront a terrifying new threat and face classic Doctor Who monsters, including Daleks, Weeping Angels and Cybermen.

THRILLING ADVENTURE GAMEPLAY

Now for non-VR platforms, Doctor Who: The Edge of Reality features brand-new gameplay, new challenges and new locations to explore, with a reimagined and expanded story that builds on the previous game Doctor Who: The Edge of Time.
Doctor Who: The Lonely Assassins
Building on the terrifying legacy of the Weeping Angels, first encountered in the iconic story "Blink", Doctor Who: The Lonely Assassins is a thrilling found-phone mystery developed by the award-winning creators of Sara Is Missing and SIMULACRA.

Amidst a sinister series of events at a seemingly abandoned house in London, someone goes missing, and you find their phone. When it begins to self-destruct, ex-UNIT scientist Petronella Osgood enlists your help to uncover hidden clues and solve cryptic puzzles. Will you unravel the truth behind the chilling disappearance before it's too late? But remember: don't turn your back, don't look away and DON'T BLINK.

ORIGINAL DOCTOR WHO STORY
Picking up where the iconic episode "Blink" left off, the Weeping Angels are back to unleash terror once again…

PETRIFYING NEW NEMESIS
Confront an evil like never before. No phone is safe!

AUTHENTIC CHARACTERS
Work alongside Petronella Osgood (played by Ingrid Oliver) to investigate mysterious events. Also features Finlay Robertson as Larry Nightingale and a special appearance by Jodie Whittaker as the voice of the Doctor.

FOUND-PHONE MYSTERY
Search through messages, emails, videos, photographs and more to uncover clues, solve puzzles and reveal the truth.
Doctor Who: Duo Bundle is currently listed for an October 18, 2022 release. You can pre-order a copy on Amazon here.
---
Nintendo Everything is a participant in the Walmart affiliate program. The website may receive a partial commission through orders placed with this retailer.
Leave a Reply