Double Kick Heroes releasing on Switch this summer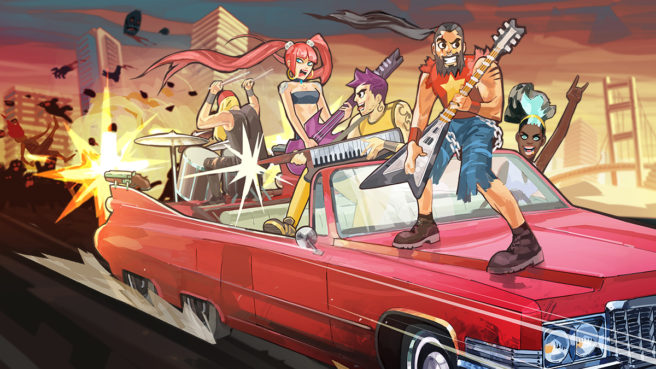 Double Kick Heroes is in the works for Switch, Headbang Club and Plug In Digital have revealed. The mixture of shoot'em up and rhythm gameplay will be on the eShop this summer.
We have the following overview for Double Kick Heroes:
Double Kick Heroes mixes a shoot'em up with a rhythm game!

Merging face-melting heavy metal rhythm riffs, with a high-octane zombie crushing shoot 'em up, Double Kick Heroes is like no game you've ever seen before!

You must survive on the highway to hell by killing monsters with your gundillac! Struggle through the 30 levels of total madness and escape from this nightmare! Only the power of Metal can save your band!

Double Kick zombies in the face with insane Metal music!
30 tremendously f****king awesome quality Metal songs by a legendary video game AND Metal composer.
Unlock new gear and pimp your Gundillac.
Rodriguez infused background story about being weird guys and gals who live for Sex, Drugs and Heavy Metal.
Explosions, rebels, militias, undeads, road-rage, madness, apocalypse. Ready to hit the fury road?
The only f****king awesome rock and metal rhythm game for Nintendo Switch, what more!?
Source: Nintendo PR
Leave a Reply