Dr. Mario World earns $1.4 million, sees 7.5 million installs in its first month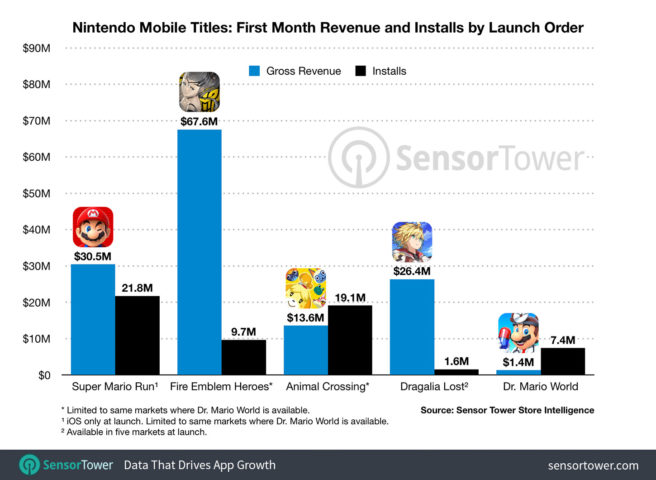 According to Sensor Tower, Dr. Mario World generated an estimated $1.4 million in player in its first month. That was accomplished with roughly 7.5 million installs.
Compared to Nintendo's other mobile titles, Dr. Mario World ranks fifth in terms of first-month revenue and fourth when it comes to downloads. It is also fifth as far as revenue per install goes at $0.19.
Japan accounted for the largest share of player revenue at 55 percent or $770,000. The United States followed next with 33 percent or $462,000 in spending. The U.S. accounted for the most downloads at 35 percent or close to 2.6 million. That's in contrast to Japan's 1.4 million or 19 percent of all installs.
Dr. Mario World is off to a slower start looking at Nintendo's other mobile games, but has done pretty well for the puzzle genre as a whole. To compare:
– Dr. Mario World's first month revenue was 40 percent higher than Snoopy Pop+ from Jam City, which occurred in July 2017 and generated an estimated $1 million in player spending in the same markets
– Dr. Mario World saw 270 percent more downloads than the licensed title's total of two million
– Family Guy Freakin Mobile Game grossed $900,000 more than Dr. Mario World, but Nintendo's title saw 57 percent more downloads.
– SEGA Heroes grossed $340,000 and was downloaded 195,000 times in its first 30 days, not including Japan and South Korea
– Removing those countries from its total, Dr. Mario World grossed $606,000 or 78 percent more than SEGAs title, and had 5.9 million installs or about 30 times more than SEGA Heroes
Leave a Reply