Dragalia Lost – Prize Showcase featuring Dragonyule Ilia live now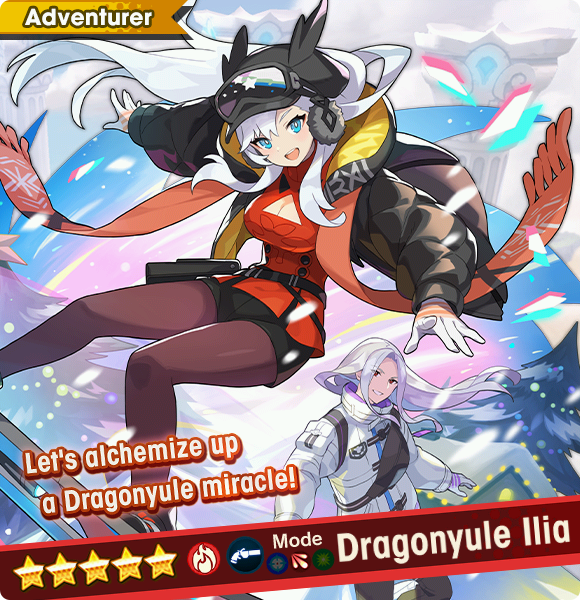 A Prize Showcase featuring the new 5-star adventurer Dragonyule Ilia is live now. This Prize Showcase features this new character as well as the returning adventurer 5-star Dragonyule Nevin (wind/dagger).
In this Showcase, each summon will grant players a prize alongside their summon result. The prizes range from: platinum prize, gold prize, silver prize, bronze prize, fifth prize, and sixth prize.
For more specifics about these prizes and the featured adventurers, check out the information below. The prize Showcase will last until December 14, 2021 at 9:59pm PT.

Get a closer look at the newly added limited-time featured adventurer below.

Featured adventurer:

Stats

Lv80
10

2,499

Available Modes

Adventurer Details

An alchemist from a thousand years in the past.
After learning what a big event her birthday is,
she's come to the birthplace of Dragonyule—and
though the legends puzzle her, she's set on
proving Saint Starfall is real in order to protect
the hopes and dreams of children everywhere.

Skills

Full Throttle Ride

Consumes the entire alchemy gauge and
all alchemic cartridges and deals damage
to enemies directly ahead. If two or more
cartridges are consumed, this damage and
its area of effect will be increased based
on the number of cartridges consumed.
Changing direction is possible during the
attack.

Damage: 180 × 1 hit
Damage: 90 × 9 hits
Damage (1 or Fewer Cartridges): 700 × 1 hit
Damage (2 Cartridges): 1,200 × 1 hit
Damage (3 Cartridges): 1,900 × 1 hit
Skill Energy Required: 3,810
Skill Energy Required (Shared Skill): 8,115

Dragonyule Boost

Completely fills the alchemy gauge and
grants the entire team a team defense amp.

Skill Energy Required: 18,000
Team Amps:
・Team Defense Amp (MAX Lv. = 3)

Co-ability

Gauge Accelerator +20%

Speeds the rate the mode gauge decreases
by 20%. Benefits your whole team.

Chain Co-ability

(Flame) Above 10 Hits = Wind Res +10%

If a team member is attuned to Flame:
reduces wind damage taken by them by 10%
when the combo count is 10 or higher.
Benefits your whole team.

Abilities

Alchemic Agility II

Dodging will carry out an additional attack

toward the target.

This ability also grants the user an alchemy gauge.
The alchemy gauge fills when standard attacks and
dodge attacks connect with enemies. Also, each
time one charge of the alchemy gauge is filled,
the user will be granted an alchemic cartridge.

Stun Res +100%

Reduces susceptibility to stun by 100%.

Starfall Spirit II

Grants the user the "Starfall Spirit" effect
for 15 seconds when an alchemic cartridge
is consumed. Starfall Spirit can stack up to
three times, and each stack increases the
user's strength and critical rate by 15%.

・The stats shown here do not include increases or decreases due to abilities and represent the adventurer at level 80 with 50 mana nodes unlocked, not the stats when first obtained.

・Adventurers with the same name cannot be put into the same team.

・Some skills have different effects when used as a shared skill.
Leave a Reply