Dragalia Lost – Twinkling Twilight event starts August 10 and game director responds to feedback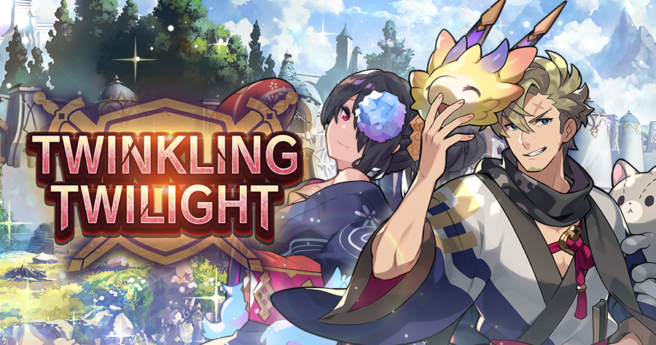 The onslaught event Twinkling Twilight is scheduled to drop in Dragalia Lost on August 10th at 11pm, PT. This event will feature the adventurers Curran & Cassandra fighting hoards of enemies.
The director of Dragalia Lost Yuji Okada has also taken time to respond to players that have used the feedback feature in-game and offers answers for their questions/concerns. His full responses are enclosed below.

Dragalia Lost Director Yuji Okada Responds to Player Feedback (from August 2, 2020)
On August 2, 2020, Dragalia Lost director Yuji Okada replied to feedback players sent via the in-game Leave Feedback feature.

This notification contains the contents of an interview with director Okada that was conducted by Yumi Uchiyama and Ayaka Asai, voice actors for the Japanese-language version of Dragalia Lost.

Notes:
・The feedback featured in this notification was chosen from feedback received between June 12 and July 5.
・Tap Feedback on the game's title screen to open the Leave Feedback screen.
・The content of the interview has been edited for this notification, so wording may differ from the original conversation.
・The content of the responses is from the time of the interview, so content that is in-development may differ by the time of release in-game.
■Responses to Feedback
Uchiyama & Asai: First up, we have some feedback about Halloween Elisanne. Players wrote in to say that they were disappointed to find little difference in her damage output after unlocking her mana spiral even though her skill gauge takes longer to fill.
Okada: As mentioned in a previous edition of This Month in Dragalia Lost, we are planning to adjust Halloween Elisanne based on player feedback. We have heard that many players feel that she loses some of what makes her so engaging and enjoyable to use after her mana spiral is unlocked. To remedy this, we will introduce a way to reduce the time required to fill her skill gauge once her mana spiral is unlocked.

With that said, we plan to implement this change by making the speed at which her skill gauge fills dependent on a buff applied to her by one of her skills, so the key to filling up her skill gauge quickly will be maintaining this buff's uptime.

Uchiyama & Asai: It seems that quite a few players have voiced their opinion on Halloween Elisanne, haven't they?
Okada: We regularly receive a large amount of feedback on game balance and parameters, but we received even more feedback than usual regarding Halloween Elisanne's mana spiral.

In general, the Dragalia Lost team prefers to avoid making major changes after release, but the volume of feedback that we received in this instance led us to make an exception. Though we are aware that we cannot satisfy every request, we appreciate all of the feedback that we receive from players and will continue to keep an eye on balance-related issues and other issues as they arise.

Note: For further details on the change to Halloween Elisanne, please see this notification.

Uchiyama & Asai: The next bit of feedback is about dragon battles in onslaught events. Players wrote in to say that these battles are enjoyable but can become tiring to play since neither the repeat feature nor skip tickets can be used despite the need to run these battles many times in solo play. Being able to play these battles in co-op would help as well.
Okada: We held the first of these onslaught events in June, and we received a variety of feedback about these, as well. We applied this feedback to the defensive event held in July, adjusting the rewards and adding co-op support for the defensive battle quests. We will continue to adjust both onslaught events and defensive battles to improve their ease of play and support additional features. These adjustments will be detailed in future notifications, so please keep an eye out for the latest news.

Uchiyama & Asai: Players wrote in to say that they would like it if the limits in the Treasure Trade for fafnir medals reset, even if only once every two months. It seems that the continued addition of new adventurers and mana spirals has made it difficult to maintain a sufficient supply of Champion's Testaments.
Okada: We would like to consider adding to and updating the lineup of items that you can exchange fafnir medals for in the Treasure Trade in the future.

Uchiyama & Asai: Since the number of adventurers who can unlock their mana spiral will only increase over time, players wrote in to request a way to more easily identify such adventurers in their roster. For example, the sort feature could be updated to include these adventurers, or a screen could be added to help check which adventurers have had their mana spiral unlocked.
Okada: We have adjusted our development schedule for implementing this. Although an adventurer's mana node progress is indicated by the color of the numbers on the Mana Circles screen, it's a bit hard to tell whether or not a mana circle is unlocked, so we're currently considering how to improve the way in which this information is presented.

Uchiyama & Asai: We've received some feedback regarding the increased number of team slots introduced in a recent update. Having more slots is certainly convenient, but since there is no way to copy or swap existing teams, players have to go through the troublesome process of building identical teams from scratch.
Okada: We plan to allow players to copy and rearrange teams in a future update, so please be patient.

Uchiyama & Asai: We have a question from us this time as well. How is the team preparing to welcome the second anniversary of Dragalia Lost in September?
Okada: I'll be able to tell you more things in further detail as the anniversary approaches, but for now I can say that we are busy preparing a large update and various events and promotions to go along with it. We plan to make this an even bigger celebration than the one held for the first anniversary, so we hope everyone is looking forward to it!
Director Okada will continue to reply to the feedback players send via Leave Feedback again in the future. We're looking forward to hearing your comments. (The feedback featured in the next notification will be chosen from feedback received between July 6 and July 31.)

Thank you for playing Dragalia Lost.
Leave a Reply