Dragalia Lost's first month: $28 million earned, revenue per download in Japan over 4x Fire Emblem Heroes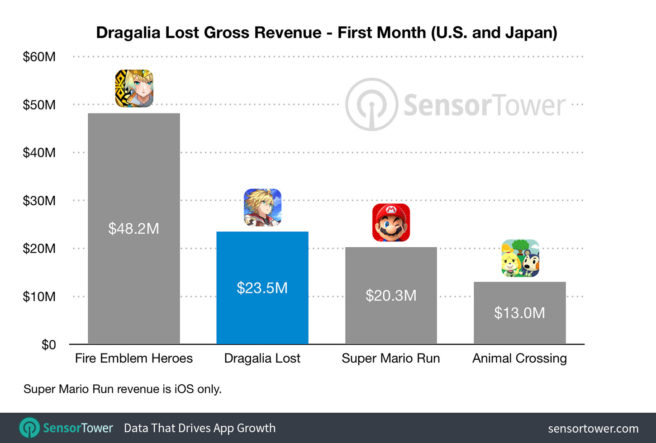 Dragalia Lost has been around (at least in some countries) for roughly a month. How has it done since its release? Based on new data from Sensor Tower, the mobile game seems to be doing very well.
Thus far, Dragalia Lost has generated about $28 million. Roughly $23.5 million of that total stems from player spending in the United States and Japan. Dragalia Lost is Nintendo's second largest mobile launch in those two countries behind Fire Emblem Heroes.
Fire Emblem Heroes is still Nintendo's best performer having generated $48.2 million in its first month from Japan and the United States. However, Dragalia Lost did $3.2 million or 16% more than Super Mario Run on iOS in both countries. We can also see that there was significantly more revenue for Dragalia Lost compared to Animal Crossing: Pocket Camp.
Sensor Tower adds that Dragalia Lost Nintendo's best mobile launch to date in terms of the ratio of player spending to downloads. It was installed roughly 1.3 million times in the U.S. and Japan, meaning the average revenue per download sits at nearly $18. That's significantly better than Fire Emblem Heroes, which earned just over $6 per download during its first 30 days in the two countries.
Once again, most of Dragalia Lost's revenue has come from Japan at 67%. Japanese players have spent an average of $25 per download in the first month. In contrast, that number for the the U.S. is $8.50. Fire Emblem Heroes grossed $5.80 per download in Japan during its first 30 days.
Leave a Reply