Dragon Quest X Offline gets details on Magic Labyrinths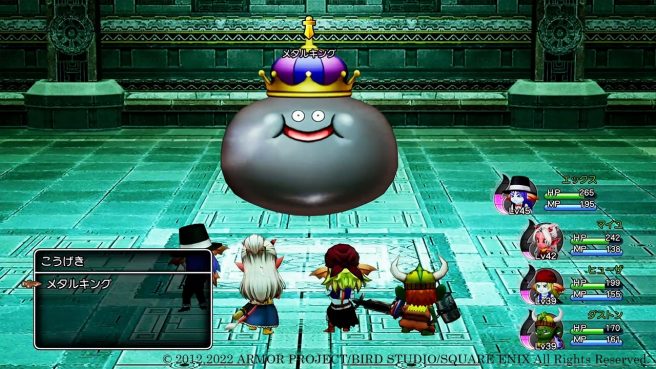 Square Enix continues its rollout of news updates for Dragon Quest X Offline, this time covering the Magic Labyrinths. We have a bunch of new details and screenshots regarding that feature.
Here's the full rundown, courtesy of Gematsu:
Fight Against Strong Enemies in the Magic Labyrinths
– The game's world exists mysterious locations known as "Magic Labyrinths"
– These can be entered by using special coins obtained throughout the adventure
– Fight Labyrinth Lords according to the content of the coins
– The monsters that appear as Labyrinth Lords are fairly strong
– Defeat them to receive a magnificent reward
How to Enter a Magic Labyrinth
– First give a labyrinth coin of the monster you want to fight to a character named Dorothy in the port town of North Rendoa
– After giving her the coin, you will immediately be transported to the labyrinth; a battle against the strong enemy tied to the coin you chose will begin
– Some monsters may also form a team; withstand their fierce attacks and seize victory
– If you manage to win, a chest will appear, in which you can obtain valuable accessories you will not find elsewhere
Level Up and Farm Gold in the Magic Labyrinths
– The monsters that appear as Labyrinth Lords are diverse
– Some will earn you a vast amount of experience points and gold when defeated
– It is the perfect place to level up and earn gold to prepare for battles against more difficult foes
– By entering the labyrinth with a "Metal King Slime Army Coin," you can fight battles against a series of Metal Body monsters
– When defeated, a Golden Slime can drop 10,000 gold or more
Popular Monsters from Previous Dragon Quest Games Appear
– With the "Luminaries of the Legendary Line Coin," you can fight Atlas, Pazuzu, and Belial, a team of monsters that first appeared in Dragon Quest II
– The Archfiend Baramos, who conquered the Overworld in Dragon Quest III: The Seeds of Salvation, can burn your party to ashes with the flames of its "Purgatory Pyre"
– Dragon Quest IV's ruler of Palais de Leon also appears in the Labyrinths; he forms a tag team with Jamirus, one of the 4 Dread Fiends in Dragon Quest VI
– Gracos, who appeared as one of the 4 Dread Fiends and ruler of the seas in Dragon Quest VI, can cast powerful spells, as well as summon sea monster allies into battle
View screenshots of the Magic Labyrinths in Dragon Quest X Offline below.
Dragon Quest X Offline arrives on Switch this summer. Currently there's no word on a western release.
Leave a Reply