Dragon Quest X Offline gets screenshots and details for Dwachakka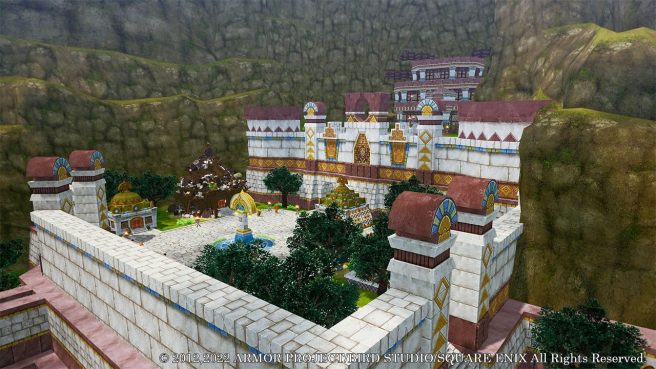 We have more details about Dragon Quest X Offline, as Square Enix today decided to focus on Dwachakka. We have information and screenshots covering topography, the Dwarves race, villages and towns, and characters.
Here's the full rundown on Dwachakka in Dragon Quest X Offline, courtesy of Gematsu:
Topography
– A continent in the east with vast deserts, active volcanoes, and so on
– Dwachakka is a harsh land to live on
– Ruins of a once-prosperous ancient civilization can be found all over
– The desert makes up about one-fourth of Dwachakka
– You can even get caught in sandstorms and tornadoes
– At the summit of Calsadora Volcano, which towers above its surroundings in the center of the continent, stands giant statues of the ancient heroes known as the Three Fighters
– Traces of ancient civilizations many thousands of years old can be found all over the land
Dwarves, the Earth People
– A small, hardworking race that loves to make money and collect things
– In the past, they used their innate dexterity and technological prowess to build advanced civilizations
– Since there are various mineral resources to be found underground, many Dwarves work as miners or blacksmiths
– At the continent's prided Royal Research Institute, brilliant scholars and sages in the making study day and night.
– Some researchers study the "Dollboard," a relic of an ancient civilization able that enables floating air travel.
Villages and Towns
– Agrani is a town in the southern mountains of Dwachakka
– Gatara is a city nestled in the central mountains
– The Dolworm Kingdom located in the northwestern desert is the continent's most prosperous city
– Agrani Town: a small town connected to the Agronia Mines; the mine workers live here
– Mountain City Gatara: town built at the foot of a mountain, with a "Junk Castle" in its main plaza and an observation deck on the upper level
– Oasis Caravan Inn: an inn where adventurers crossing the desert can stop to rest; next to an oasis with plenty of water
– Dolworm Kingdom / Dolworm Crystal Palace: largest city on the continent; can move throughout the town and palace with a mechanism known as the Divine Machine, which utilizes ancient technology
Characters
– In Agrani Town, you will meet the sage Broggen, as well as the human woman Lunana, who is working with the Dwarves
– In the Mountain City Gatara, you will meet Dasuton, who will becoem your party member, plus a mysterious phantom thief
– Lunana: daughter of a famous priest in Agrani Town; has a high-handed personality and big ambitions
– Broggen, the Sage: sage who is almost always asleep outside of important matters; his staff serves as a voice for the sleeping Broggen's thoughts
– Dasuton: lord of Junk Castle in the Mountain City Gatara; collects junk with the help of his assistant, and appoints the protagonist as his new assistant
– Poikurin, the Phantom Thief: mysterious phantom thief who sometimes appears in the Mountain City Gatara to steal junk from Junk Castle
– Director Dura: young director of the Royal Research Institute in Dolworm Kingdom; known as the greatest genius in the kingdom
– Chiri: Dasuton's adopted daughter; after a huge fight with Dasuton three years ago, she left home to become a researcher at the Royal Research Institute
Leave a Reply