Dragon Quest XI 3DS-exclusive features detailed – StreetPass, visit past Dragon Quest worlds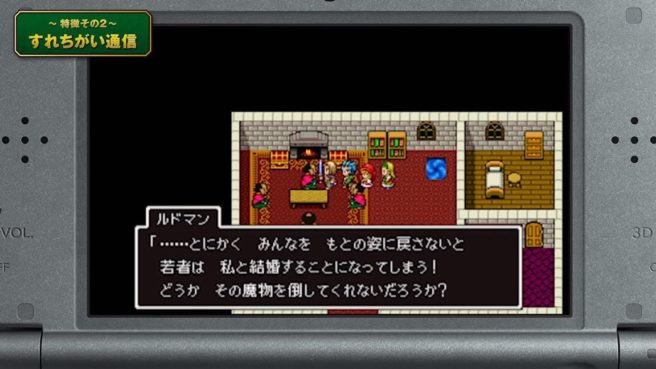 A special Dragon Quest XI Direct was held earlier today. The presentation covered what the 3DS version of the game specifically offers. Although we were treated to quite a bit of recap, new features were revealed as well, including the ability to take on various quests in which you visit the worlds of past Dragon Quest games.
Here's the full recap, courtesy of Gematsu:
In 2D mode, there are secret locations called "Hidden Spots" that you can find.
In 3D mode, there are symbol-based encounters. By using the A button, you can perform a preemptive attack.
2D mode uses random encounters.
The bottom screen displays the map. You can switch between the full map and the area map.
There is a "Travel Memories" feature that lets you look back on events in 2D and 3D modes.
The circle pad is used for 3D screen movement, while the d-pad is used for 2D screen movement.
The 3DS version uses "StreetPass" functionality.
The main element of StreetPass sees players interacting with a race known as the Yocchi.
The Yocchi will request that you rescue the Yocchi in critical situations that you encounter along your journey.
The key to rescuing Yocchi is a dungeon called the "Labyrinth Beyond Time."
You can form a party of up to eight Yocchi from among the Yocchi you gather, and send them off into the dungeon.
In the dungeon, you can choose whether to control the Yocchi directly or proceed automatically. Choosing the latter means both movement and battles are automatic.
There are treasure chests and you can obtain items in the dungeon.
The abilities of each Yocchi differ, and various exist from weak to strong. They will not return if they're killed by the enemy.
By defeating the "Gate Keeper" awaiting at the end of the dungeon, you will obtain an "Adventure Log Password."
By giving the Adventure Log Password to the Yocchi elder, you can go the worlds of past Dragon Quest games.(In the Nintendo Direct, we see the player visit the worlds of Dragon Quest and Dragon Quest V.)
There are problems occurring in the worlds of past Dragon Quest games, and resolving them has something to do with saving the Yocchi.
Leave a Reply