Drainus getting a physical release on Switch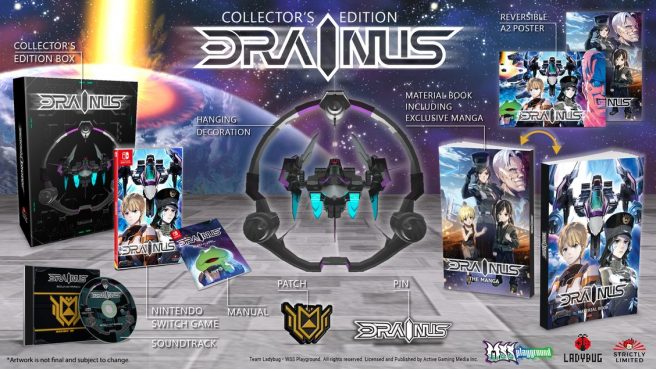 We still don't know when exactly Drainus will be launching on Switch, but confirmation has been provided that a physical release is in the cards. Strictly Limited Games is handling production.
Drainus will be sold with both a standard version and collector's edition. The latter, which costs $69.99 and is limited to 1,500 copies worldwide, includes a copy of the game, special box with magnetic latch, game manual, material collection book with an exclusive manga in both English and Japanese plus an exclusive interview with the developer and behind-the-scenes material about the development, hanging decoration, original soundtrack on CD, textile patch with the emblem of the Kharlarl Empire, enamel logo pin, and a double-sided poster.
Here's some information about the game:
Drainus is a side-scrolling shooting game set in a futuristic world where the Kharlal Empire rules the galaxy. Irina, born a slave on the planet Halpax, heads for her home planet after her father falls seriously ill. She meets a time-traveling frog-form named Ghenie and is informed that an intergalactic war is about to begin. She hijacks Drainus, a ship that can absorb and reflect enemy attacks, and sets out with Ghenie to overthrow the Kharlal Empire and find her father.

Drainus is a unique twist on traditional shooters. Similar to "Ikaruga", the player can only absorb light energy attacks. These absorbed energy bullets accumulate in a meter and are released as a counterattack. Some of the energy bullets are also stored in energy tanks and used for shooting variants, secondary attacks, and shield upgrades, allowing for a wide variety of play styles.
Pre-orders for the physical versions of Drainus on Switch start November 20, 2022. Strictly Limited Games will have both versions here.
Leave a Reply