EA wants people to look at FIFA 18 Switch as its own game, tried to make the most of the system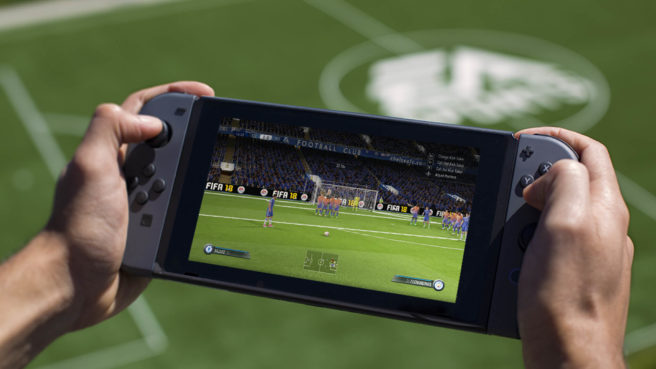 After just one game on Wii U during the console's early lifespan, EA is finally back on a Nintendo platform with FIFA 18. Rather than chasing the PlayStation 4 and Xbox One versions, the team decided to do its own thing – and that's something producer Andrei Lazaresc from EA Bucharest hopes people recognize.
In an interview with GamesIndustry, Lazaresc said:
"I've been encouraging people to play it because then they will realise that it's a really quality product. Although I've talked about it, and that team has talked about it, people see us as being biased. So hey, try it, and everyone who tries it says… 'OK, I'm going to get this.' We need people to get their hands on it. That's the frustrating thing about it. I wouldn't put this against the PS4 or Xbox One version, or vice versa, I would look at them as two individual football games. This one's biggest advantage is that you can play it on the go."
Lazarescu indicated that a lot of work went into creating FIFA 18 for Switch. Regardless of what happened with other Nintendo platforms previously, for this game, the team wanted to make the most out of the hardware available to them.
According to Lazarescu:
"This is the first FIFA I've made for a Nintendo platform, so I'm not in a position to speak about what has happened in the past. But what I can say, is that for this one, before we started, we looked at what the platform is, what its audience is, and we looked at our own game and asked ourselves: What do we actually want to make? How do we want to make people feel? What we came up with was things like 'fun', 'responsiveness', 'fluid'… things like that.

"So what did we do about it? We went down the route of not using the Frostbite engine, because we would have most likely had to dumb it down to make it work. So we decided not to do that, and wanted to make a game that was custom-built for this platform. Sure, we have a fundamental base code, because this is a football game and the basic rules don't change. But what we've ended up with is very close to our ideal vision. For people to quickly get into it, to understand it, to have fun… to experience an immersive game of football, either by themselves or with friends, and experience FIFA like a regular FIFA… that's not like previous FIFA games [on Nintendo]. This is a full FIFA, and it is by far the best FIFA we've ever made for a Nintendo console."

"People were saying we've never been able to pull FIFA off on Nintendo. Even the team was feeling the pressure from past years. But once they saw the plan and we decided what the game should be, we all rallied around that goal."
Lazarescu ended by saying that there are more features the team would like to include in the future on Switch, though what happens ultimately depends on sales. Lazarescu feels that this year's release "is an incredible game and it allows us to build on it." Instead of doing "a one-off," EA hopes "to do something that we can build on."
Leave a Reply