Empire of Sin update out now on Switch (version 1.02.38645m), patch notes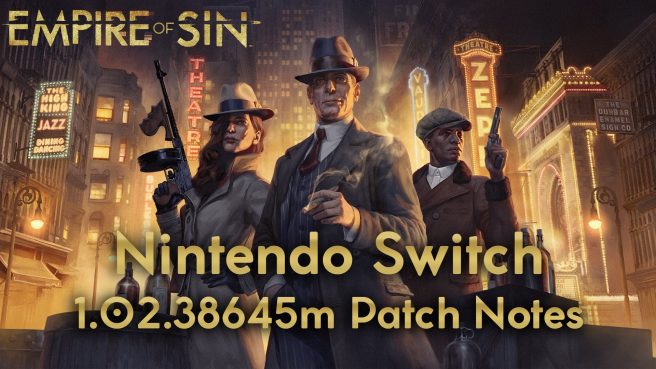 Empire of Sin recently received a new 1.02.38645m patch on Switch. There are various improvements, fixes, and bug fixes relating to UI, combat, art, and more.
Below are the full patch notes:
UI
– Fixed issues around UI notifications overlapping other game UI
– Fixed icon issues
– General UI polish
– Radial menu unclickable icon fixed
– Implemented additional tooltips

Tutorial
– Fixed issues around skipping tutorial
– Tutorial polish
– Fixed tutorial disabled buttons that should be active
– Additional tutorial text

Combat
– Fixed camera issues
– Improved combat AI
– Polished combat abilities
– Fixed issue with characters spawning off the nav mesh so not engaging
– Combat balance polish
– Throat slit execution fixed
– Fixed pooling blood issue

Art
– Updated character flags
– Adjusted lighting in sitdowns
– Safehouse interior variants
– Animation polish
– Lip syncing polish
– Improved particles and lighting
– General fixes and polish

Miscellaneous
– Fixed various VO bugs
– Updated localisation
– Implemented Paradox SDK for telemetry
– Fixed issue with sitdowns timing out
– Fixed issues with selling buildings
– Mission fixes
– Sound effects polish
– General audio polish
– Fixed issue with game saves delaying loading
– Softlocks fixed
– Faction AI polish
– Optimisations implemented
– Gameplay balance
– General bug fixing
You can pick up Empire of Sin both physically and digitally on Switch.
Leave a Reply