Etrian Odyssey Origins Collection announced for Switch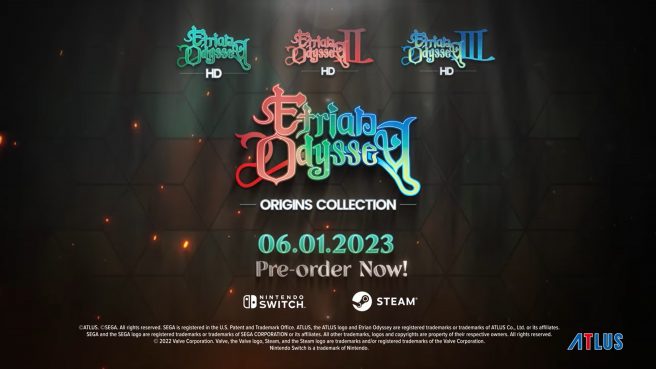 Today, Atlus unveiled Etrian Odyssey Origins Collection for Switch. We already have a release date of June 1, 2023.
Etrian Odyssey Origins Collection brings together the first three titles in the series that launched for DS more than a decade ago. It includes new features such as newly remastered visuals and a remastered soundtrack plus a multitude of quality-of-life improvements, such as difficulty selection, save slots, and easier access to the in-game monster compendium, quest log and skill tree.
We have more information below:
In the Etrian Odyssey Origins Collection, players will explore the rich beginnings of this RPG franchise with remasters for three timeless adventures. Go on a journey of discovery, mapping deep dungeons, and building customized parties for exploring and engaging in tactical combat.

Key Features

Newly remastered graphics, remastered soundtrack and quality of life improvements including difficulty selection and save slots.

Touch screen mapping functionality for Nintendo Switch™. Plot your progress through the labyrinth, drawing walls and placing icons to note special events and items.

Full mouse support and functionality to map drawing, menus, and dungeon exploration (Steam).

Easy access to the monster compendium, quest log, and skill tree.

Find 24 brand new character portraits designed for the collection, including Landsknecht, War Magus, Sovereign, and more.
And here's a trailer as well:
Pre-orders for Etrian Odyssey Origins Collection go live on the Switch eShop today, as well as each individual game. Those that reserve the collection will receive Character Portrait DLC Sets featuring popular characters from other Atlus IP:
Character Portrait DLC Set 1 includes Joker (Persona 5 Royal) and Ringo (Soul Hackers 2).

Character Portrait DLC Set 2 includes Demi-Fiend (Shin Megami Tensei III: Nocturne) and Teddie (Persona 4 Golden).

Character Portrait DLC Set 3 includes Aigis (Persona 3 Portable) and Nahobino (Shin Megami Tensei V).
Leave a Reply