Everspace confirmed for Switch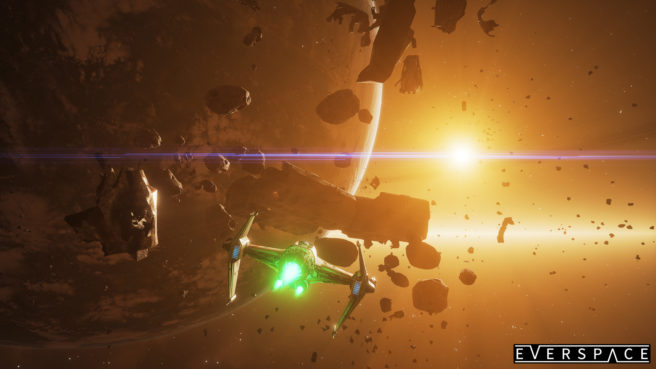 Everspace, an action space shooter that also features roguelike elements, will be released on Switch. Rockfish CEO and co-founder Michael Schade confirmed the news in an interview with Wccftech.
Speaking about the company's plans for Switch, Schade said:
For a team with its root in mobile gaming, we are super excited about the Switch, naturally. We have always loved the ubiquity of mobile gaming devices in general, and the Switch even comes with proper analog controllers which is very much needed if you want to have a proper console-style experience on the go – as much fun it was to play Galaxy on Fire 1 and 2 on smartphones and tablets, touch controls have never been the best fit for a 6DOF space shooter.

More importantly, Nintendo's DNA has always been a great "mobile" gaming experience with a premium pricing policy keeping the perceived value of its games at console level and keeping the platform from being cluttered by too many shovelware. The success of the Switch proved Nintendo right, and we have started looking into an Everspace port a few weeks ago.

Now, while I cannot share any further details about a release date or pricing, I definitely can share that our mobile gaming background already paid off: Everspace runs super smoothly, and it looks just gorgeous on the device. We still have to optimize the performance when running on the big screen, but we are getting there. So, stay tuned for more!
Here's some additional information and a trailer for Everspace:
Everspace is an action-focused single-player space shooter, combining roguelike elements with top-notch visuals and a captivating story. It takes you on a challenging journey through an ever-changing, beautifully crafted universe full of surprises. Your skills, experience, and talent for improvisation will be tested continuously as you piece together the puzzle of your existence through encounters with interesting characters, each having their own unique part of the story to tell. In each exciting run, you will face entirely new situations, ensuring countless hours of thrilling gameplay and generating myriad opportunities for individual, meaningful moments to experience. No matter how skilled you are, death is inevitable but is also only the beginning of a much larger journey.

Dash into intense dogfights and experience furious space combat using a wide range of weaponry and devices.

Collect and mine valuable resources to either repair your ship's systems or to craft new equipment and modifications for a much-needed advantage. Your choice.

Find blueprints for crafting, and hunt for exotic weaponry and equipment. You never know what will drop next.

Travel through vast, procedurally-generated levels with untold numbers of hidden dangers and treasures. A game of risk and reward awaits.

With the tools provided, it is up to you to make the best of your situation. Utilize every advantage and be creative to turn the odds in your favor. Every mistake could be your last.

Features

– Single-player roguelike space shooter with persistent progression
– Captivating fully voice-acted story featuring interesting and thoughtfully designed characters
– Three unique player ships, each with different capabilities and starting gear to choose from
– Vibrant art style with top-notch visuals and incredible attention to detail
– Shooter-style 6DOF controls optimized for mouse + keyboard
– In-depth crafting and damage system
– Dynamic, functional cockpit displays for all player ships
– Hardcore Mode with permadeath for die-hard roguelike fans
Leave a Reply