Everything missing from the Switch version of FIFA 18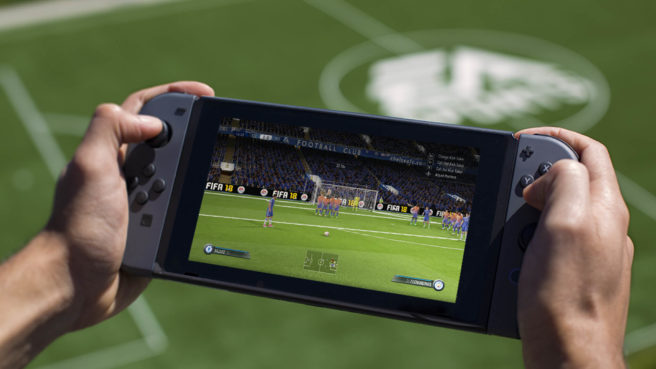 FIFA 18 is the series' first entry on Switch, and the first game in the franchise to hit a Nintendo system in quite a few years. On the whole, it contains many of the same features as other platforms, but some key elements are missing.
We do know that The Journey is missing from the Switch version of FIFA 18. The story mode won't be present, seemingly due to how tied it is to Frostbite. Rather than using that engine on Switch, Nintendo's console incorporates custom technology.
USgamer also put together a nice piece outlining other missing Switch features that you may not have been aware of. Here's what the site shares:
Squad Battles and Weekend League: One of the newer features in FIFA 18 is Squad Battles—a rotating set of games in FIFA Ultimate Team where you can earn points and climb up a leaderboard for major rewards. Sadly, Squad Battles doesn't make the cut in the Switch version, and neither does Weekend League—a popular mode in which you win games to qualify for a weekend tournament with major prizes. What does make it? Squad Building Challenges and Daily Objectives are both still available, as are the Single Player and Online Drafts. Losing Weekend League and Squad Battles is a serious drag, though. It makes Ultimate Team, which was dicey to begin with on the Switch, an almost total non-starter.

The Presentation: FIFA 18 on the Switch rolls back all the really nice additions to the presentation found in the other version, including the league-specific overlays for MLS, enhanced crowds, and improved celebrations. The crowd audio also regresses back to the more generic songs for MLS games (though you can still hear the "Gala-xy!" chants at Galaxy home games). Basically, the presentation is about where it was with FIFA 16.

Transfer Negotiations and Release Clauses in Career Mode: This is a bit of a bummer: release clauses and sell-on clauses are missing from career mode. So are the owner mode-like financials introduced in FIFA 17, though they were kind of superfluous anyway. As you might expect, Transfer Negotiations are also back to being conducted via email rather than via cutscene as they are in the other versions. This is a loss, but I'm more disappointed that I can't trigger Messi's release clause and start some serious trouble.

Certain Formations: Certain formations that are prevalent in FIFA Ultimate Team are unavailable in the other modes in the Switch version. That includes 4-1-2-1-2, which happens to be my favorite formation. What gives, EA?

Another weird thing: Tactical instructions are hidden beyond a "Customize Formation" option rather than getting their own tab. For a second, I totally thought that I couldn't tell my Strikers to "Get in Behind." I eventually found it, though. It was just very well-hidden.
You can read the full article on USgamer here. The site also goes over whether or not the Switch version of FIFA 18 is worth it in the end.
Leave a Reply