Exclusive Mario, Luigi, and Samus cars revealed for Rocket League on Switch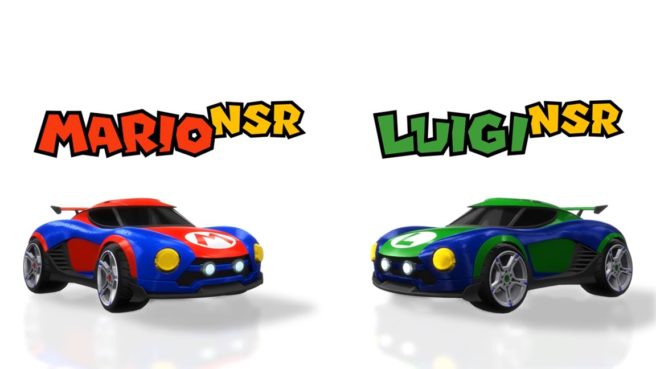 Psyonix is revealing some big news about the Switch version of Rocket League today. This version of the game will offer some exclusive Nintendo-specific cars.
Players will be able to ride in vehicles based around Mario, Luigi, and Samus. The Mario and Luigi cars are the same but for a different predominant color and logo, and the one you get depends on the Rocket League team you're on. You'll be Mario on the Orange team, and Luigi on the Blue team.
Also coming to Rocket League on Switch is the Samus Gunship, taken right out of Metroid. Like the Mario and Luigi cars, different coloring options are available based on the team you're on.
All of these cars will have exclusive traits. The Mario and Luigi cars feature a Super Star trail while Samus' Gunship has a Wave Beam. Also, Mario and Luigi hats are reconfirmed.
View a trailer for the new Nintendo content in Rocket League on Switch below, along with the official announcement.
As the holiday season draws closer, so too does Rocket League on Nintendo Switch!

As revealed in our Nintendo Direct E3 2017 trailer, Rocket League will indeed have exclusive customization items and Battle-Cars for that version of the game, and today we are excited to announce that the 'Mario NSR,' 'Luigi NSR,' and 'Samus' Gunship' vehicles will be FREE unlockable Battle-Cars at launch!

Watch the official trailer right here:

For the curious, team color decides which version of the new Battle-Cars appear on the pitch. Players on the Orange team can use the 'Mario NSR' and 'Samus' Gunship,' while Blue team members automatically equip the 'Luigi NSR' and a classic Samus color variation of her Varia Suit. Though both vehicles are FREE on Nintendo Switch, players will still need to unlock them in-game by completing certain requirements. More details on those later this year!

Along with the new Battle-Cars, Rocket League on Switch will also have several exclusive customization items. The 'Mario' and 'Luigi' Toppers (hats) can be used on any non-licensed customizable Battle-Car, while the 'Super Star' Rocket Boost can be used with the 'Mario NSR' and 'Luigi NSR' cars. Likewise, the 'Wave Beam' Rocket Boost is exclusive to 'Samus' Gunship.'

Look for more information on our Nintendo Switch release as we get closer to launch!
Leave a Reply