Fall Guys kicks off Sonic the Hedgehog event this week, full details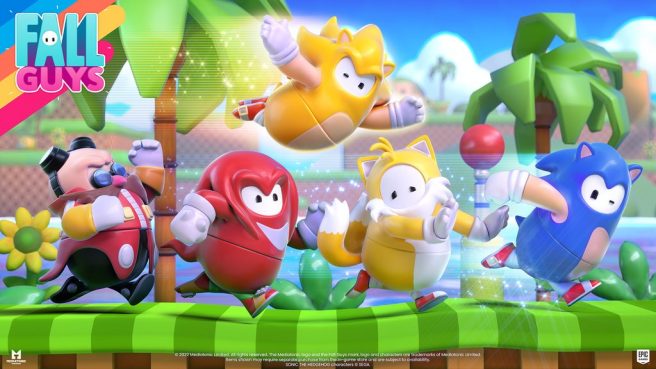 Original (8/9): Mediatonic has shared full details about its new Sonic the Hedgehog event for Fall Guys, which starts in just a couple of days.
A big highlight is the new "Bean Hill Zone" level. Here players need to collect as many rings as possible to win special rewards. Once they've obtained 200 points, they'll receive a "Bean Hill Zone" nameplate. At 400 points, they'll get 200 kudos. 600 points provides a Bonus Rings Pattern outfit, 800 points is for 400 kudos, and 1,000 points lets players use Sonic's iconic sneakers.
A number of special costumes will also be making an appearance. The store will house variations for Sonic, Tails, Knuckles, Super Sonic, and Dr. Robotnik. Players can also purchase the Sonic Foot Tap emote. It's worth noting that the Sonic costume isn't entirely new, as it was first made available in 2020. Still, it's nice to see it return.
The new Sonic the Hedgehog collaboration event for Fall Guys will take place between Thursday, August 11 until Monday, August 15. Those interested in trying out the game can download it as a free-to-play title via the eShop. Let us know if you have plans to give the event a go in the comments.
---
Update (8/11): We have a trailer for the event below.
Leave a Reply