Fire Emblem Heroes announces Bridal Blossoms summoning event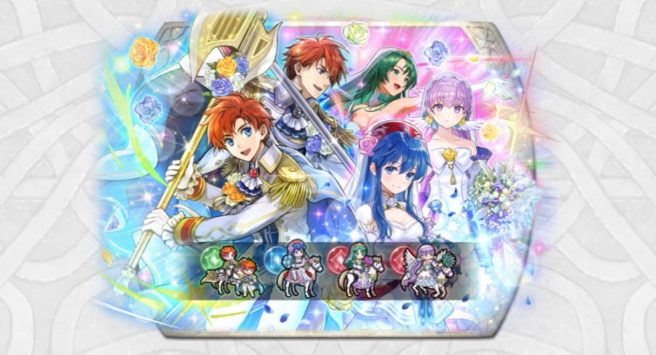 Nintendo and Intelligent Systems have announced the next summoning event for Fire Emblem Heroes, Bridal Blossoms. Characters dressed in wedding garb will be appearing.
The event will feature Lilina: Beaming Bride (voiced by Julie Kliewer, art by kaya 8), Sophia: Prescient Bride (voiced by Wendee Lee, art by Tantan), Cecilia: Etrurian Bride (voiced by Cherami Leigh, art by kainown), and Roy: Blazing Bachelors (voiced by Ray Chase + Yuri Lowenthal, art by Wada Sahiko) as a duo. Lilina has the learnable skills
True-Love Roses, Gifted Magic, Still Water 4, A/R Far Trace 3, and Joint Dist. Guard. Sophia can use Dragon Bouquet, Rally Def/Res+, Atk/Def Push 4, and Atk/Res Hold. The lineup for Cecilia is Bridal Orchid+, Rally Atk/Res+, Atk/Res Ruse 3, and Rouse Atk/Res 3. Finally, Roy's skills are Blazing Polearms, Luna, Sturdy Surge, Flow Force 3, and Faith in Humanity.
Here's a trailer for the Bridal Blossoms summoning event in Fire Emblem Heroes.
Note that the 5-star Hero Larum: Dancing Bride will appear as a Score Reward in the next Tempest Trials+ event.
Fire Emblem Heroes is out now on mobile via iOS and Android. You can access the official website here.
Leave a Reply