Fire Emblem Heroes announces Of Lost Kingdoms summoning event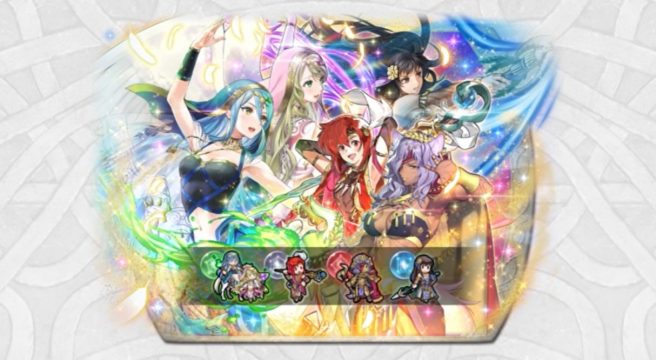 Nintendo and Intelligent Systems have announced a new summoning event for Fire Emblem Heroes known as Of Lost Kingdoms. It will feature Special Heroes who have donned garb reminiscent of the desert nation Hatari.
The lineup for this particular event includes Nailah: Hatari Scorcher (voiced by Rachel Robinson, art by Azusa), Karla: Sun-Piercing Steel (voiced by Allegra Clark, art by Kita Senri), Xane: Desert Mirage (voiced by Brandon McInnis, art by Yo Kanzawa), and Azura: Hatari Duet (voiced by Rena Strober and Rachelle Heger, art by kaya8) as a duo. Nailah's skills include Royal Hatari Fang, Luna, Sturdy Surge, Lull Spd/Def 3, and Glare. Karla can use Dryblade lance, Draconic Aura, Special Spiral 3, and Odd Tempest 3. As for Xane, his skills are Serpentine Staff+, Physic+, Miracle, Def/Res Solo 3, and Dazzling Staff 3. Lastly, Azura has Dancing Flames, Gray Waves, Fury 4, S/R Far Trace 3, and Cross Spur Res.
We have a trailer showing the Of Lost Kingdoms summoning event for Fire Emblem Heroes below.
Fire Emblem Heroes will host the Of Lost Kingdoms event starting on January 16 at 11 PM PT / January 7 at 2 AM ET. Nintendo has also confirmed that the 5-star Hero Deen: Bladed Sandstorm will appear as a Score Reward in the next Tempest Trials+ event.
Leave a Reply