Fire Emblem Heroes announces Summer Vacation summoning event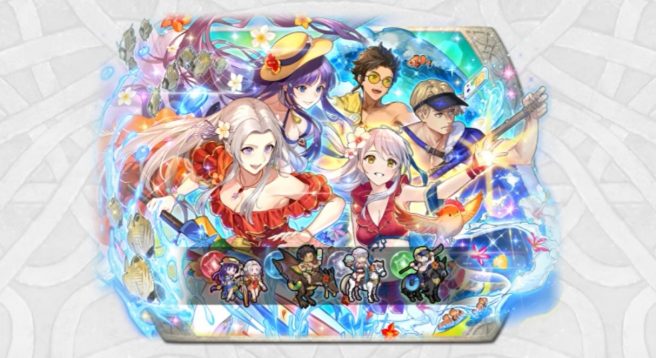 A new summoning event is approaching for Fire Emblem Heroes, with Nintendo and Intelligent Systems today announcing Summer Vacation.
Dimitri: Sky-Blue Lion (voiced by Chris Hackney, art by Nishiki Areku), Micaiah: Wavecrest Maiden (voiced by Veronica Taylor, art by ichikawa Halu), Claude: Tropical Trouble (voiced by Joe Zieja, art by azu-taro), and the duo Edelgard: Sun Empress (voiced by Tara Platt + Krizia Bajos, art by Kakage) will be featured. Dimitri has the learnable skills Unyielding Oar, Glimmer, Atk/Spd Catch 4, Atrocity, and Spd/Def Menace. Micaiah's lineup is Moonlight Drop, Maiden's Solace, Moonbow, Atk/Res Catch 4, and Prescience. Claude's skills include Frozen Delight, Moonbow, Fallen Star, and Spd/Def Rein 3. Finally, Edelgard features Regal Sunshade, Glimmer, Atk/Def Ideal 4, Raging Storm, and Assault Troop 3.
Here's a trailer for the Summer Vacation summoning event in Fire Emblem Heroes, which kicks off on June 17, 2022:
Fire Emblem Heroes is out now on mobile via iOS and Android. We have lots of other coverage on the game here. Additionally, the game's official website is located here.
Leave a Reply