Fire Emblem Heroes announces Taken by the Tide summoning event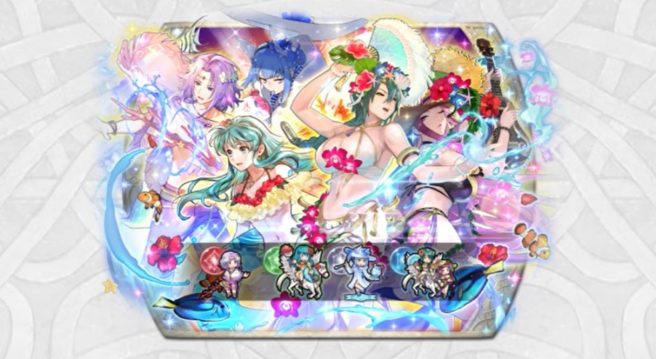 Today, Nintendo and Intelligent Systems announced Taken by the Tide as the next summoning event in Fire Emblem Heroes and it kicks off later this week. It will feature Eirika: Beach Restorer (voiced by Kira Buckland, art by Wada Sachiko), Nifl: Tropical Ice God (voiced by anairis Quinones, art by Suzuhito Yasuda), Lyon: Sunlit Prince (voiced by Mark P. Whitten, art by hou), and the duo Thorr: Sun-Kissed Gods (voiced by Laila Berzins + Erika Ishii, art by Maeshima Shigeki).
Eirika's learnable skills include Caring Conch, Luna, Steady Impact, Moonlit Bangle F, and Atk/Spd Oath 4. Nifl has Chilled Breath, Glimmer, Atk/Spd Catch 4, S/R Near Trace 3, and Domain of Ice. Lyon can use Coral Saber+, Moonbow, Atk/Def Ideal 3, and Lull Atk/Def 3. Lastly, Thorr features the skills Divine Whimsy, Blazing Thunder, Still Water 4, A/R Far Trace 3, and Worldbreaker.
Taken by the Tide will kick off in Fire Emblem Heroes on July 7, 2022. View a trailer for the event, which also features the latest Paralogue Story, below.
Fire Emblem Heroes is currently available on mobile via iOS and Android. For more coverage on the game, head on over here. You can also access the game's official website right here.
Leave a Reply