Fire Emblem Heroes – Bridal Heroes revived, new weapons to refine, and a new update coming June 5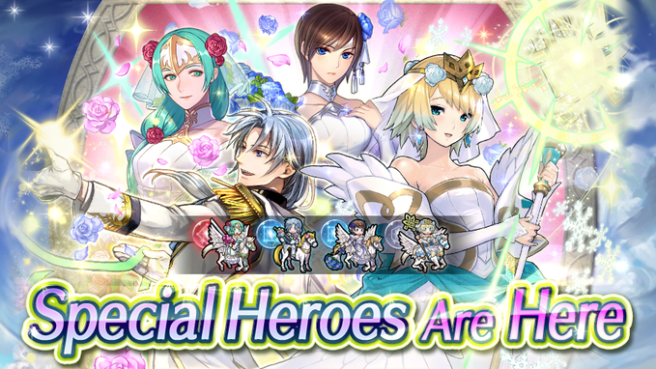 Fire Emblem Heroes has brought back it's bridal heroes in a summoning showcase. Your first summon won't cost orbs and the heroes included are in the picture above.
Next up, there are new weapons being added to the weapon refinery, including: Stalwart Sword (Draug: Gentle Giant), Hewn Lance (Donnel: Village Hero), Sniper's Bow (Clarisse: Sniper in the Dark), and Great Flame (Myrrh: Great Dragon). These are coming soon and are not yet available.
Also, a new update is in the works (version 4.6.0) and it will be distributed on June 5, 2020. More information to come on that later.
Finally, a few features will be receiving slight updates such as the lineup of the Limited-Time Combat Manuals and new mechanics in Mjölnir's Strike. The details of these changes are included below:

■ The lineup of Limited-Time Combat Manuals is being updated!
Players will be able to obtain Divine Codes (Ephemera 6) from events and exchange them for an updated lineup of Limited-Time Combat Manuals using the Compile Combat Manual feature.

■ Aether Raids and Aether Resort are being updated
○ Some structures will have their level cap increased.
・ Healing Tower (O/D): up to level 7
○ Aether Resort is being updated.
・ Three new songs are being added to the Concert Hall.

■ Mjölnir's Strike being updated
○ Some mechanisms will have their level cap increased.
・ Heroic Banner: up to level 4

■ Additional Heroes via Heroic Grails
Heroes will be summonable via Heroic Grails:
・ Iago: Nohr's Tactician
・ Minerva: Princess-Knight
Leave a Reply