Fire Emblem Heroes – New Voting Gauntlet, update 4.9.0 announced, patch notes
Posted on September 1, 2020 by Ervin in Mobile, News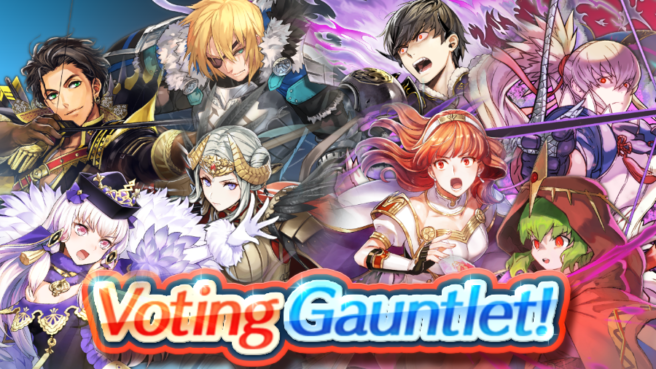 Fire Emblem Heroes is currently hosting the first part of a new Voting Gauntlet: Brave Reprisals. This Voting Gauntlet features Dimitri vs Berkut, Claude vs Takumi, Edelgard vs Celica, and Lysithea vs Tiki. Paired with this are a new series of quests with each round, the first lasting from September 1 to September 3, then one from September 3 to September 5, and the last one from September 5 to September 7.
Additionally, a new update has been announced for Fire Emblem Heroes, 4.9.0. This update will add the new Frontline Phalanx event, a Hero Trait rework, new weapons, and more. Check out the full patch notes below.
New Event Frontline Phalanx Added! Frontline Phalanx is a new event in which summoners send their support to Heroes in other worlds struggling against the odds. Learn more in the most recent Feh Channel video.
A feature to change Hero traits is being added! Players will be able to change a Hero's asset or flaw using a new item: Trait Fruit. See the in-game notification for details. Complete quests celebrating the debut of Frontline Phalanx to earn 100 Trait Fruit!
The lineup of Limited-Time Combat Manuals is being updated! Players will be able to obtain Divine Codes (Ephemera 9) from events and exchange them for an updated lineup of Limited-Time Combat Manuals using the Compile Combat Manual feature.
New weapons to refine! Royal Sword (Celica: Warrior Priestess), Maltet (Hector: Brave Warrior), Garm (Ephraim: Sacred Twin Lord), and Hliðskjálf (Veronica: Brave Princess) are coming soon!
Aether Resort!

Structures will have level caps increased

Bright Shrine (O/D): up to level 7

Aether Resort updated

Three new songs added to the Concert Hall.

Mjölnir's Strike is being updated!

Mechanisms will have level caps increased

Askran Seal: up to level 4

Additional Heroes via Heroic Grails! The following Heroes will be summonable via Heroic Grails:

Lorenz: Highborn Heat
Eremiya: Bishop of Woe

Other Changes!

When presenting opponents in Aether Raids, the game will attempt to prioritize the opponents whom players have been matched with less frequently.
A link to Learn with Sharena! will be added to the Allies menu.

Android: minimum Android version to run the game is Android 4.4.
Adds a new type of event: Frontline Phalanx
Adds option to change a Hero's Traits. Requires Trait Fruit (100 of them required to change a trait once), obtained from The Arena, Resonance Battles, Mjolnir's Strike, and Forging Bonds.
This update is slated for release on September 6.
Leave a Reply