Fire Emblem Heroes – Voting Jubilee announced for 30th anniversary, first voting category revealed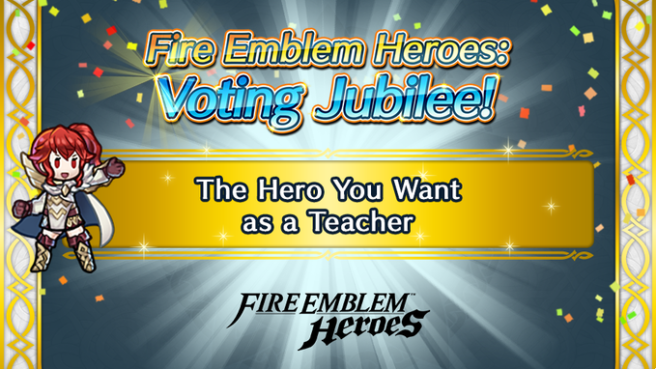 Fire Emblem Heroes is hosting a Voting Jubilee in honor of Fire Emblem's 30th anniversary. This event will consist of five voting categories, each of which will allow players to cast their vote for the Fire Emblem character they think best suits the description. These categories will cycle every 48 hours.
The first category has been revealed and is live now – it is "The Hero You Want as a Teacher." Players can cast their vote on this website and it will reward 100 platinum points to their My Nintendo accounts for the participation. There are also exclusive wallpapers that can be unlocked with voting in the event.
The Voting Jubilee event is live now and will be active until April 15, 7:59pm PT. The results will be announced on April 23, 12am PT.
UPDATE: Fire Emblem Heroes' Twitter page is now holding an event that will award players with free orbs and divine codes based on the amount of shares it gets. Full information in the post below.
10,000 shares/RT: 1 Orb and 50 Divine Codes (Part 1)
20,000 shares/RT: 3 Orbs and 100 Divine Codes (Part 1)
30,000 shares/RT: 5 Orbs and 150 Divine Codes (Part 1)
Campaign period:
Apr. 5, 9:00 PM PT to Apr. 12, 8:59 PM PT
Please see the in-game notification for more details.

— Fire Emblem Heroes (@FE_Heroes_EN) April 6, 2020
Leave a Reply