Flinthook and Mercenary Kings coming to Switch, will have a physical release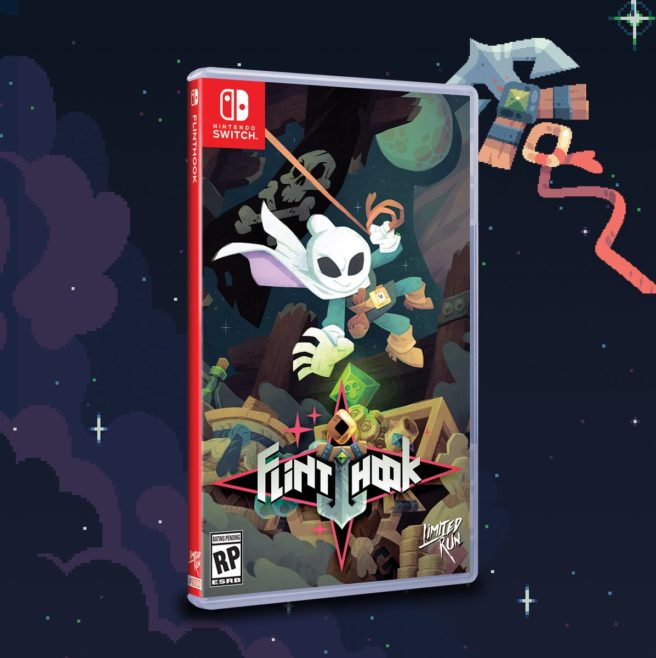 Update: Limited Run Games has also confirmed that Mercenary Kings is coming to Switch. We've added in a trailer and details for that one as well below.
Can you handle another announcement?! Mercenary Kings from @TributeGames is also coming to Switch! Reversible cover! pic.twitter.com/xuTLbfxGp3

— Limited Run Games (@LimitedRunGames) January 25, 2018
---
Orignial: Limited Run Games has revealed its next release for Switch. The company is teaming up with Tribute Games to bring Flinthook to Switch. Even better, it will have a physical version.
Flinthook is a fast action-platformer with roguelike elements. We've attached some additional information and a trailer below.
Flinthook
Become space's greatest pirate with your hookshot, pistol and slowmo powers!

– Zip around with your mighty hookshot! Aim freely and toss your giant anchor at golden rings to propel yourself around the levels at high speeds, giving you the agility and swiftness needed to dodge hazards and enemy bullets.
– Shoot in 360' through your Blasma Pistol! Take down all sorts of enemies with fresh hot bullets!
– Look really cool with slow-motion powers! Slow down time to adjust your aim or pull off a tight stunt – do it often, it recharges real quickly and it makes you at least 200% cooler.

– Blast through randomly-assembled pirate spaceships! Each level is special, as ships are procedurally built from hundreds of hand-crafted rooms, modified by various variants, filled with extraordinary treasure and populated by random waves of enemies.
– Hunt down the pirate lords of the Cluster Clan! Feed your compass creature to pinpoint the bosses' location, then take them down and bring your bounty home. Your rivals are no space chumps, make sure you're ready for the challenge!
– Collect rare relics and powerful perk cards! All the treasure you loot builds up your legend – unlock new equippable perks as you level up, buy permanent upgrades in the Black Market, and hoard collectible relics and lore pages!
– Uncover some mysterious secrets?! I don't know, are there secrets in this game?
Mercenary Kings
In this frantic 2D action game, you are part of the Mercenary Kings, the most skilled team of warriors-for-hire on Earth, but when your comrades have fallen and the fearsome forces of CLAW have seized an island-wide top secret Laboratory Base, you must do what it takes to stop them.

But you're not going in unprepared! Your back-up is made of a crew of rogue geniuses and experts of their field! Able to craft & customize guns'n'blades or upgrading body armor, you've never been this ready to join the fight.

Whether its solo or with friends, move out, cut down CLAW and save the world!
Thanks to TheDonRob for the tip.
Leave a Reply