Fork Parker's Crunch Out coming to the SNES, Devolver Digital donating profits to charity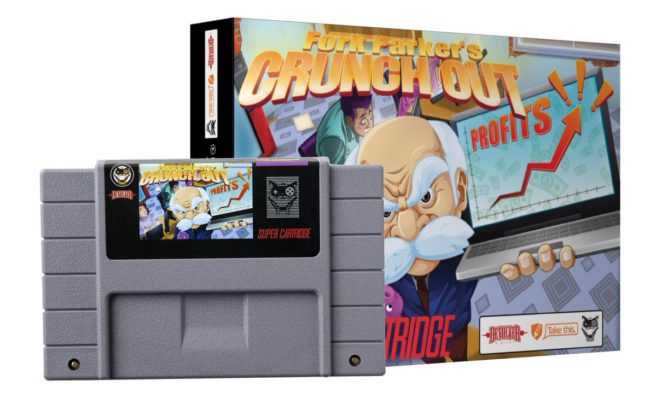 Devolver Digital and Megacat Studios have teamed up on a brand new SNES game, Fork Parker's Crunch Out. All of Devolver Digital's profits will benefit the Take This organization, a nonprofit charity dedicated to informing the gaming community about mental health issues, providing education and services within the industry and tackling mental illness prevention.
Here's what to expect from Fork Parker's Crunch Out:
Fork Parker's Crunch Out is a classic arcade-style game featuring the notorious Devolver Digital CFO as he bootstraps a ragtag group of game developers from a downtrodden garage studio to a high rise mega corporation using only his love of profit and questionable motivation tactics. Deadlines are not to be missed and Fork will use any and all methods of encouragement to keep his team focused and productive as they work to get their next big hit out on time and hit their bonuses, which are unfortunately tied to the game's critical reception.
All copies come on an authentic cartridge and packaged in a premium SNES era game box with a classic game manual. Only 1,000 copies will be sold through the Mega Cat Studios store and at select independent game retailers around the United States.
Fork Parker's Crunch Out can be pre-ordered here for $49.99. A limited edition is located here for $149.99.
Source: Devolver Digital PR
Leave a Reply