Fuga: Melodies of Steel 2 details Chapter 1, more characters, battle mechanics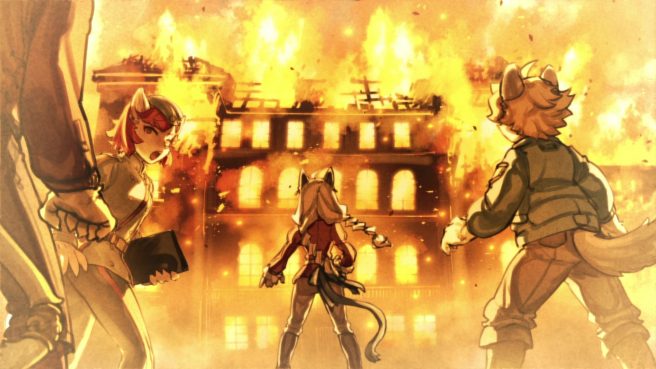 CyberConnect2 shared even more details for Fuga: Melodies of Steel 2, this time covering Chapter 1, more characters, battle mechanics. We also have a bunch of footage.
Here's the full rundown:
The Story of Fuga: Melodies of Steel 2

Chapter 1

A year has passed since the armistice was signed between Berman and Gasco, bringing the war to an end. The children, no longer embroiled in bloody conflict, had each gone their separate ways to enjoy the peaceful lives they fought for. One day, the children received letters from the Gasco Army requesting they convene in Pharaoh – the new capital city.

Characters

Shayne Muscat (voiced by Yuki Onodera)

Age: 58
Felineko

The de facto political head of Gasco. A pacifist whose primary focus is on domestic policy. His late wife passed half a year ago in a tragic accident – one which also left him covered in severe burns.

Merlot (voiced by Yasuhiro Mamiya)

Age: 63
Caninu

Chief general and supreme commander of the Gasco Army. Though outwardly gruff and fierce, he is a compassionate man with a soft spot for children. He is a close friend to the president.

Cannelle Muscat (voiced by Sachi Kokuryu)

Age: 27
Felineko

A lieutenant in the Gasco Army and right-hand officer to General Merlot. Muscat is the president's eldest daughter, but she chose to defend Gasco via the military versus the political sphere. She is perennially concerned for her sister, Vanilla.

Intense RPG Battles with Tactics to Handle Both Your Enemy and Your Own Turns

Battle Mechanics

Children placed at a gun turret will attack with their skilled weapon type.

Switch their placements and attack enemies' weakness to delay them!

Formation

The placement of children is the key to battle tactics!

Skills

Use a variety of skills to gain an advantage in battles!

New: Added new highly tactical and technical skills!

New: Miraculous Comebacks with Leader Skills

Malt's experience helped him blossom as a leader, and now he can rouse the crew with his Leader Skills!​ Leader Skills activate randomly in battle and provide powerful recovery effects and various buffs!

Example of defensive and recovery leader skills: "Careful!" – Hexes an enemy's sight to make its attack fail.
Example of offensive leadership skill: "We Strike First!" – All allies attack first.

Leader Skills are acquired in Judgment Chance as described below.

New: Judgement Chance Moves the Story​ Based on the Player's Decisions!

The judgment values for empathy and resolution may increase with Malt's actions. Malt's decisions affect his growth as a leader, endowing him with different Leader Skills.

Additionally, episodes will trigger based on gauge values! These values factor into the fate of the children, especially Malt.

https://youtu.be/Oj7HMlydR3E
Fuga: Melodies of Steel 2 launches for Switch via the eShop on May 11, 2023.
Source: CyberConnect2 PR
Leave a Reply