Godstrike getting a physical release on Switch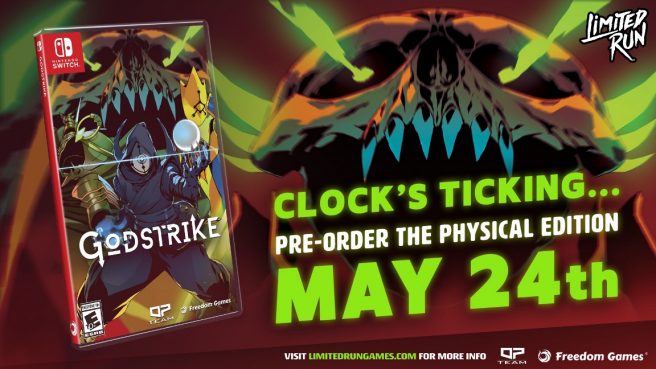 Godstrike, which debuted on Switch digitally in April 2021, is now set to receive a physical release. It will be offered through Limited Run Games' distribution line, with pre-orders opening tomorrow.
Learn more about Godstrike in the following overview:
In Godstrike you embody Talaal, the last of God's seven masks. Talaal finds her bearer just in time to fight against its siblings, that hunt her to absorb the power within the mask. The bearer is now trapped in a war that does not belong to her, a cycle that seems impossible to break.

Key Features

Customizable ability loadouts, allowing the players to optimize their game style.
Competition focused gameplay so you can challenge your friends and beat the high scores.
Multiple game modes, including Roguelite!

SKILLS

Along your path, you will unlock over 40 unique abilities by defeating bosses. Before each battle you will be able to customize your ability loadouts to optimize your playstyle and discover powerful combos and synergies!

HIGHSCORES

If you enjoy frantic experiences and hard challenges, you will be able to take it to the extra mile! Challenge other players and reach the top of the highscores!
You'll be able to pre-order the physical version of Godstrike through Limited Run Games here. The company will have reservations available for four weeks.
Leave a Reply