GoldenEye arrives on Switch Online, Life is Strange 2 and tons of indie announcements, and more | Nintendo Everything Refresh Ep. 041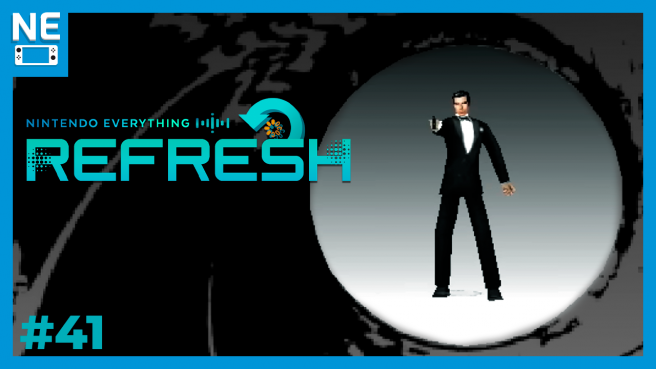 It's been a long time coming, but after existing for decades exclusively on the Nintendo 64, GoldenEye 007 has finally been rereleased on modern platforms! In this week's episode of Nintendo Everything Refresh, we'll discuss the long-awaited return of this classic first-person shooter and whether it can live up to the nostalgia that so many players have! We'll chat about a handful of the many games announced for Switch last week, including a surprise port of Life Is Strange 2, the next game in the SteamWorld franchise, and much more!
We'd also like to welcome a new voice to our show, and to the site! Tom Chaplin is one of Nintendo Everything's two new video creators, and he and his friend Sam will soon be bringing some exciting and creative content to Nintendo Everything's YouTube channel. In the meantime, we got to welcome Tom onto the podcast and hear, among other things, all about his thoughts on Fire Emblem Engage. We can't wait to have him and more folks from the site on future episodes of the podcast!
Our podcast is available on most major streaming platforms, including Spotify, Apple Podcasts, Google Podcasts, Amazon Music and Audible, or you can check out the video version on YouTube.
Direct downloads are also available for free through our friends at ListenNotes. Have ideas or suggestions for the show, or want to submit a fan question or topic for a future episode? Let us know what you think – and thanks for listening!
➡ Inquiries/Fan Mail: [email protected]
Episode Segments:
(00:00) | Intro
(01:10) | GoldenEye 007 launches on Switch Online
(09:10) | Uno gets a Switch Online Trial
(11:37) | Splatfest incoming!
(15:45) | SteamWorld Build announced
(19:28) | Life is Strange 2
(23:05) | Trek to Yomi
(26:21) | Road 96 prequel announced
(28:27) | Strayed Lights announced
(31:12) | Release Dates (Minecraft Legends, Fuga 2, Story of Seasons: A Wonderful Life)
(42:13) | Sonic may ditch the "boost" mechanic
(46:53) | The Future of Sonic games
(51:54) | Recent Releases
(01:04:38) | What we've been playing
Hosts:
Nick Serpa: @ndserpa
Dennis Gagliardotto: @LyonHart_
Luiz Estrella: @Luizestrella_
Nicolas Shadday: @Dayshade1999
Tom Chaplin
Leave a Reply