Grim Guardians: Demon Purge opening movie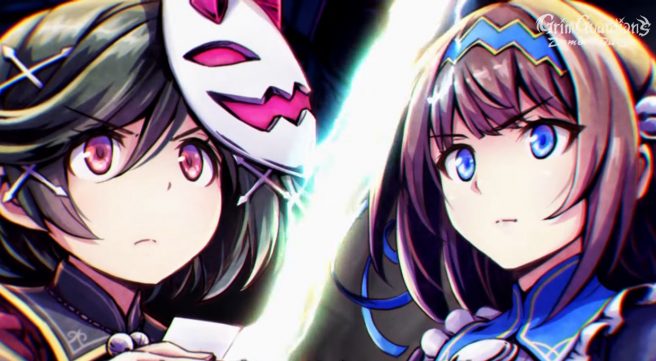 Inti Creates has gone live with the official opening movie for Grim Guardians: Demon Purge. There's a song in the video, which features vocals from the Kamizono Sisters (Emi Uema and Chinami Hashimoto). Hakofactory handled the lyrics, Ippo Yamada was in charge of the composition, and Takuya (Ino Head Park) did the arrangement.
Here's some information about the gothic horror 2D action platformer from Inti Creates:
Grim Guardians is a 2D action game centered around two demon hunters who return to their school after a mission only to find a demonic castle where it once stood. Conquer the castle and solve the mystery of what happened to their school!

Take control of both the tag-team Kamizono sisters. Use both long-distance focused "Shinobu Kamizono" and close-range brawler "Maya Kamizono" as you make your way through the castle. Master each of the sisters' unique abilities and attributes to overcome the challenging stages with fiendish bosses lying in wait. Find new routes through the game's stages using the two characters' abilities, keeping each playthrough fresh.

Grim Guardians features 2-player co-op with special actions, extensive difficulty options with the "Style System," unique changes on repeat plays, and most importantly the quality and challenge players have come to expect from Inti Creates titles, this time with a new gothic horror aesthetic.
We've attached the Grim Guardians: Demon Purge opening movie below.
Grim Guardians: Demon Purge launches for Switch on February 23, 2023.
Leave a Reply