Guacamelee out on Switch today, Guacamelee 2 coming in December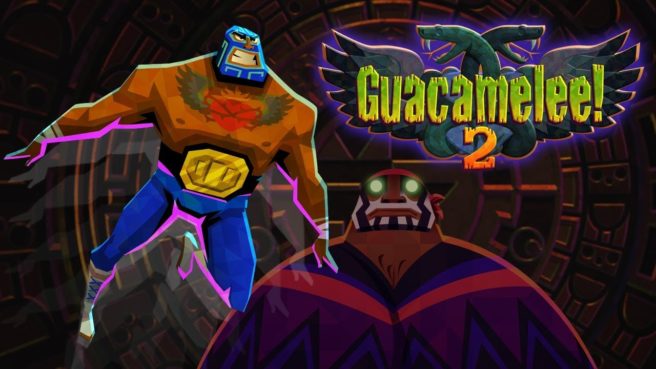 DrinkBox Studios has revealed that both of its Guacamelee games are coming to Switch. In fact, the first title is out today on the eShop. Guacamelee 2 will follow in December.
The Guacamelee games are Metroidvania action platformers. The first one ended up on Wii U a few years ago while DrinkBox only just wrapped up the sequel in August.
We have the following overviews and trailers for both titles:
Guacamelee! Super Turbo Championship Edition
Carlos Calaca has kidnapped El Presidente's Daughter, and he plans to sacrifice her in order to merge the World of the Living with the World of the Dead.

Juan Aguacate, an agave farmer who stumbles upon a Legendary Luchador mask, must find the strength and courage to become the Hero he's always dreamed of being and put a stop to this.

Guacamelee! STCE is a Metroidvania-style action-platformer set in a magical world inspired by traditional Mexican culture and folklore.

The game features melee combat, parallel dimensions and same-screen co-op. The Super Turbo Championship Edition also includes extra abilities, new level content and enhanced graphics. Also chickens.
We are delighted to be working with @DrinkBoxStudios on today's release of Guacamelee! STCE on Nintendo Switch! Better yet, Guacamelee! 2 will be following in December! EXCLAMATION MARKS!!!! pic.twitter.com/HSSfIsbTTo

— PopAgenda (@PopAgendaCo) October 8, 2018
Guacamelee 2
Brawling has never been more beautiful! The long-awaited sequel to the smash hit action-platformer is here: Guacamelee! 2 brings luchador Juan Aguacate out of retirement for a stunning new Metroidvania-style adventure, where he must face his greatest challenge yet – one that threatens to tear apart the very fabric of the Mexiverse!

Explore a huge, hand-crafted world inspired by Mexican culture and folklore, filled with sassy new villains and weirdos (and a few old friends!). Learn a deep repertoire of bone-crunching wrestling moves to fend off the skeletal hordes and overcome skillful platforming challenges… and who said anything about a Chicken Illuminati? Certainly not us!

Check out these features:
– Powerful New Moves – Eagle Boost, Rocket Kick, Pollo Shot and more add to Juan's arsenal of combat and platforming abilities.
– Super Chicken – Tons of new powers for Juan's chicken form. Ridiculous chicken-based platforming, combat and exploration. More chicken than you'll be able to handle (probably).
– Vibrant, Deadly World – An epic, colorful adventure through the worlds of the living and the dead, across rifts in time and space — looking more gorgeous than ever thanks to a fancy new rendering engine.
– Lots to See – Bigger maps, bursting with secrets and optional content. Twice as many enemy types as the first game, and a roster of eccentric new bosses.
– New Upgrade System – Discover "trainers" from around the world, defeat their challenges, and upgrade your movement, combat, abilities, and more.
– Caliente OST – Soundtrack featuring new music from Peter Chapman and Rom Di Prisco – composers of the original Guacamelee! OST. Additional tracks from special guests Mariachi Entertainment System!
– 4-Player Co-op – Drop-in / drop-out 4-player local co-op through the entire story lets your best amigos join in anytime.
Leave a Reply