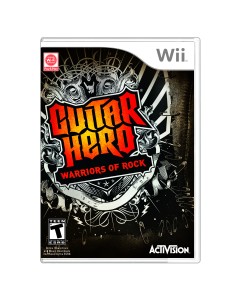 Game Info:
System: Wii
Category: Music
Players: 1-4
Release date: September 28, 2010
Developer: Vicarious Visions
Publisher: Activision
Over the past several years, a number of different gaming competitors have challenged Guitar Hero in the music genre. Similar products have been introduced, with the main one being Rock Band. Guitar Hero has been around since 2005, and has seen a number of different versions since then. As a result, some fans have felt that the franchise has started to become a bit unfocused and stale. With increasing competition and decreasing sales, Activison has decided to liven up the license by making Warriors of Rock similar to the original title, which was very well-received. However, even though the game is very well-made, it doesn't stray too far away from where fans have become accustomed.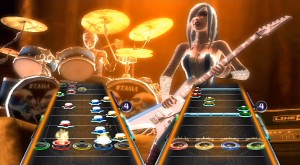 For those who are unaware, Guitar Hero's basic premise involves correctly pressing buttons on the guitar peripheral to match the notes that fall down on the screen. There is more to the game than that, however. In some instances, you'll need to hold down the button for an extended period of time (rather than simply pressing a button quickly). And, of course, the higher the difficulty level you select, the greater the number of buttons you'll need to use. This may seem rather simple at first, but novices to the series will immediately understand that it is necessary to practice a great deal before moving on to higher stages of difficulty.
What's new to the latest Guitar Hero title is the inclusion of a Quest Mode. It is unique in that it offers a tale narrated by Gene Simmons, though, sadly, the rocker's presence in the game doesn't contribute much to the story. In fact, this scenario is rather forgettable. Similarly, the overall Quest Mode experience isn't entirely noteworthy. In spite of the fact that there are character powers with which to experiment and that this mode offers a somewhat different way to "rock out," the main incentive for continuing on will, most likely, be to unlock extra songs for other modes.
"Warriors of Rock's" biggest downfall lies in its clunky presentation. Much of the game is infused with a clustered, non-user friendly vibe. Menus aren't easy to navigate, and I felt that the font sizes were often much too small and, therefore, difficult to read. Moreover, I felt that trying to start a simple quickplay game during my first time through was too tedious.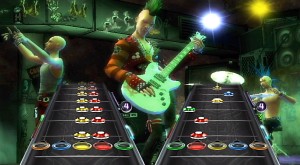 It's fair to say that "Warriors of Rock" is one of the strongest supporters of the Wii's Wi-Fi capabilities. The game is always connected – Once the game disc loads, "Warriors of Rock" automatically joins Activision's online servers. It is also noteworthy that this title is the first product on Nintendo's console to feature Facebook and Twitter support, and you can even share accomplishments/challenge feats with your friends. Such inclusions are very welcome additions, and hopefully other developers will consider incorporating similar functionality in the future.
Ultimately, one's interest in Guitar Hero will be based on a user's interest in the songs included with the game as well as a player's general interest in music. The tracklist is mostly comprised of hardcore rock, though there are some odd inclusions such as Nickelback's "How You Remind Me." It's also important to consider the game's price; the software and just one guitar will cost you a pretty penny. Regarding the Wii specifically, Activision has published a product that stacks up very well to its console counterparts – and even includes a fairly enjoyable, exclusive mode that takes advantage of the Nintendo DS. And even though "Warriors of Rock" doesn't exactly innovate, this is a game that is quite enjoyable, especially when played with a friend or two.
Overall score: 8/10
Leave a Reply