Here's a Podcast – Episode 112! (Kirby's Adventure!)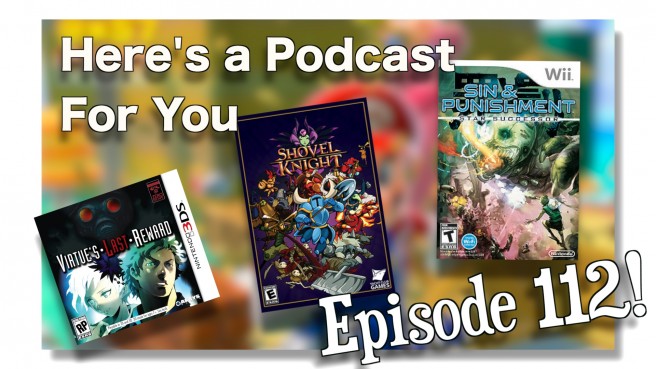 ---
Podcast Crew: Austin (Twitter), Jack (Twitter), Laura (Twitter)
Hello everyone! This is Satoru Iwata from Nintendo here to present to you Here's a Podcast – Episode 112. As usual, this is an enhanced podcast, which means that– if your player supports it– you can skip chapters and look at images we reference right on your listening device, such as a smartphone or a tablet. Speaking of smartphones and tablets, I'd like to speak a little bit about a new partnership we're forming with DeNa. Here are today's podcast chapters:
Shenanigans
1. Intros, what to expect, and other things
2. GAME OF THE WEEK – Kirby's Adventure
What we played
3. Jack and Austin's bad fur day. (Conker's Bad Fur Day)
4. Vacation slides with Laura.
5. Austin learns to love. (Sin & Punishment: Star Successor)
6. Jack finally digs into a new game. (Shovel Knight)
7. Title screen songs, and some other things. (Ace Combat: Assault Horizon Legacy+)
Shenanigans Redux
8. Earthbound farms endorsement.
9. Site Features.
10. Ace Combat Music Break
11. Book club begging.
Listener Mail
12. Does Mario Maker spell the end of NSMB? What's the future of 2D Mario?
13. What do you think about Donkey Kong Country?
14. Games that surprised us with how good they were.
15. Game endings, and other ramblings.
16. Our Kirby recommendations.
17. Do we want a stylus-controlled Zelda on Wii U?
Final Shenanigans
18. Kirby's Adventure Quiz!
---
Download this episode (click this link)
Subscribe via iTunes by clicking this thing!
Subscribe with Google by clicking this thing!
Subscribe with Yahoo something-or-other by clicking this thing!
Leave a Reply