Hometown Story out today in North America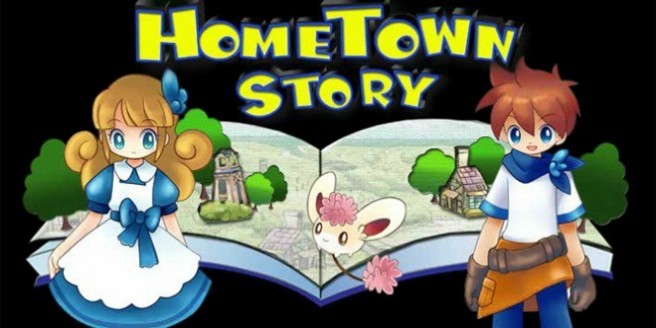 Today, Hometown Story has officially landed in North America. The game is available for purchase starting today for $39.99.
Europe will be receiving Hometown Story sometime in Q1 2014, courtesy of Rising Star Games.
You can find new screenshots from Hometown Story above. The release announcement is posted below.
Burlingame, CA. – October 22, 2013 – Natsume Inc., a worldwide developer and publisher of family-oriented video games, today launches its highly-anticipated new title, Hometown Story. Designed by the Harvest Moon series creator, Yasuhiro Wada, Hometown Story is out now for the Nintendo 3DS with a suggested retail price of $39.99 USD. Hometown Story is rated E10+.

"With over 100 characters in your hometown to meet and interact with, the decisions players make will impact their game each time they play," said Hiro Maekawa, President and CEO at Natsume Inc. "With the adorable Pochica at your side, your shop will grow from a tiny market to a bustling social center for the whole town to visit!"

In a lush, green village tucked away in the countryside, players will reunite with old friends and meet new ones. After the recent passing of your grandmother, the shop you've inherited has brought you back to your hometown. However, the shop has become run down, and no one wants to even window shop there anymore. Can you turn the shop around and even expand it, or is it destined to stay in the red forever? The more items you sell, the more customers will come to your shop, and as you manage your shop better you can expand and the village will prosper! Hometown Story takes players to a fantastic world filled with color and hope.

You won't have to go it alone, though. With help from a magical sprite named Pochica, you'll get the store back up and running, along with introducing you to all of the unique characters who reside in the town. The villagers will all change and grow throughout the game, and that person who you thought might be up to no good when you first met them just might have a heart of gold! Your experiences will be completely different from anyone else's. You'll never know what to expect in Hometown Story.

Players who pre-ordered the game before today's launch will receive an exclusive bonus from Gamestop, Amazon, or the Natsume Online Store. Each of these retailers have their own exclusive colored "Ember the Dragon" collectible plushie. In addition, Natsume fans have a special Thanksgiving bonus to look forward to. Players can now pre-order the Hometown Story Collector's Edition, with the 11″ Pochica plushie, from http://natsume.com/store/games/3Dhts/index.html. The collector's edition will begin shipping on November 25th. The game is also scheduled to be released digitally via the Nintendo eShop on October 22nd.

Players can follow the latest news for all of the beloved Natsume franchises via www.natsume.com, or by scooping all of the latest Natsume updates, contests, screen shots and more at www.natsume.com/facebook and www.twitter.com/natsume_inc.
Source: Natsume PR
Leave a Reply