Hot Wheels Unleashed DLC plans detailed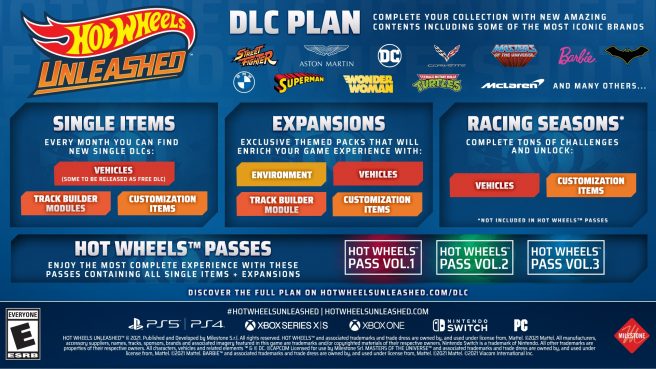 Mattel and Milestone today unveiled its DLC plans for the racer Hot Wheels Unleashed. Three Hot Wheels Passes will unlock a set of special content from Hot Wheels originals as well as from Barbie, DC, Masters of the Universe, Street Fighter, Teenage Mutant Ninja Turtles and OEMs like Aston Martin, BMW and McLaren and many others.
According to Milestone, players can look forward to free and premium DLC periodically. Upcoming content may include vehicles, track builder modules, customization items, and exclusive themed expansion sets introducing new environments. Also, by joining Racing Seasons, players can participate in limited-time challenges with new vehicles and special rewards.
The Hot Wheels Unleashed DLC Pass Vol. 1 will be offered at launch. It will come with ten vehicles coming from brands like Barbie, DC, Street Fighter, and Teenage Mutant Ninja Turtles, three customization packs, and three track builder modules. A Batman DLC expansion from DC is included as well.
Milestone notes that details on Hot Wheels – Batman Expansion and Hot Wheels Passes Vol. 2 and Vol. 3 will be provided at a later date.
Hot Wheels Unleashed is slated for September 30 on Switch. Milestone will be offering the game physically at retail as well as digitally on the eShop.
You can visit the official website for Hot Wheels Unleashed here.
Source: Milestone PR
Leave a Reply