Hot Wheels Unleashed reveals Looney Tunes Expansion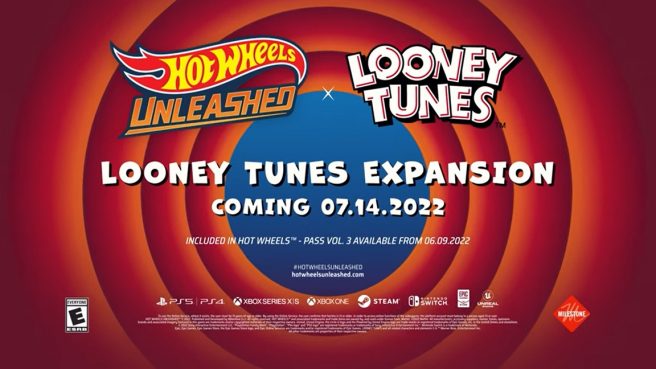 New content is on the way to Hot Wheels Unleashed, as Milestone today unveiled a new Looney Tunes Expansion in collaboration with Warner Bros. Interactive Entertainment. Players can get their hands on the new content starting July 14, 2022.
The Looney Tunes Expansion is comprised of five new vehicles, a themed Track Builder Module, themed customization items for the Basement and the Player's Profile, and a new environment where players can relive the adventures of the classic animated series: the Looney Tunes Adventure Park. It's a theme park divided into four areas, including the iconic desert set of Wile E. Coyote's epic fails.
A teaser trailer announcing the Looney Tunes Expansion in Hot Wheels Unleashed can be found below.
Players can obtain the Looney Tunes Expansion as part of the Hot Wheels Pass Vol. 3. It'll also be sold separately starting on July 14. Along with the Looney Tunes Expansion, the Hot Wheels Pass Vol. 3 also includes nine vehicles, three Themed Customization Packs and three Track Builder Modules and can be purchased as of June 9, 2022.
Hot Wheels Unleashed debuted on Switch last September. If you're curious as to how the Switch version turned out, read our review here.
Source: Milestone PR
Leave a Reply