Kamen Rider: Memory of Heroez announced for Switch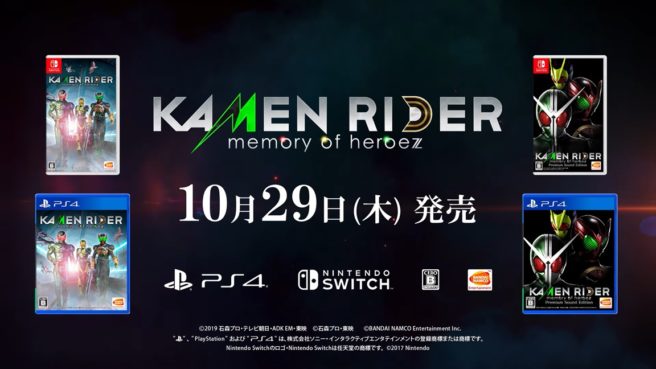 Bandai Namco today announced Kamen Rider: Memory of Heroez, a new action game for Switch. It will launch in Japan on October 29.
Here's the first round of details:
– Kamen Rider W: Cyclone Joker (Shotaro voiced by Yoshimasa Hosoya, Philip voiced by Kouki Uchiyama)
– Kamen Rider OOO: Tatoba Combo (voiced by Tatsuhisa Suzuki)
– Kamen Rider Zero-One: Rising Hopper (voiced by Fumiya Takahashi)
– Basic Actions – Fight using attacks with different power and Rider Power (RP) consumption; fight and chain together combos to get a high rank
– Chain Actions: chain system in which you simultaneously select a form change and followup attack; discover your own chain route and fight while connecting chains one after the other
– Rider Power: Rider Power is required for powerful attacks and evasion; ascertaining the state of battle and mastering Rider Power is essential
– Memoria Gadget: Memoria Gadget that appears in Kamen Rider W supports the Riders; plays a large part in the game, such as using its Denden Sensor to locate hidden items
And the debut trailer:
Kamen Rider: Memory of Heroez will cost 7,600 yen. Fans can also purchase a Premium Sound Edition for 11,800 yen, which includes 60 additional songs such as the opening song and background music that can be customized as the in-game background music.
Leave a Reply