Kao the Kangaroo reveals Kaollector Edition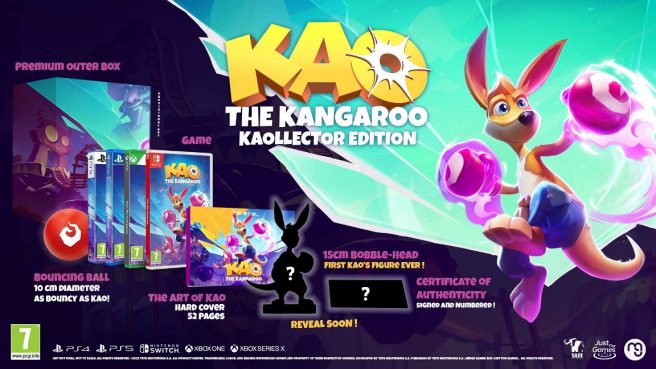 Just For Games, in collaboration for Tate Multimedia, has revealed a new "Kaollector Edition" for Kao the Kangaroo.
The 3D platformer is just a week away from hitting Switch, and we already knew that a physical release is planned. However, the special edition will include some extra goodies.
The Kao the Kangaroo Kaollector Edition will be limited to 5,000 copies and includes the following:
– World Premiere! A 15cm bobble-head model of Kao the Kangaroo ! It's the first time Kao has its own figure… and it's wiggling!
– A bouncing ball as bouncy as a kangaroo! You won't stop it! Get all the power of Kao's gloves into this 10cm diameter bouncing ball! It's MASSIVE!
– A 52 pages hard cover premium artbook exploring 20 years of Kao franchise… Discover exclusive concept arts and drawings from the first to the latest episode of Kao the Kangaroo!
– A certificate of authenticity, signed by the Tate's team, developer of every Kao's games.
– And of course, the standard physical game itself!
The Kao the Kangaroo Kaollector Edition "will be packed into a black mate classy premium box celebrating the 20 years of Kao The Kangaroo and protected by an external sleeve with an exclusive design." Copies should be available starting in Q4 2022.
Source: Just For Games PR
Leave a Reply