Kickstarter news: Super Mighty Power Man, Truberbrook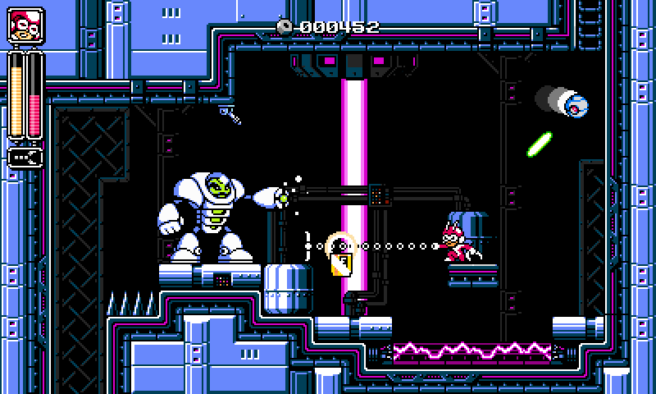 Kickstarter campaigns opened today for a pair of Switch titles. Super Mighty Power Man and Truberbrook are both looking to be funded.
Super Mighty Power Man is a game we've covered previously. The Mega Man-inspired project is looking to raise around $60,000, and is targeting for Nintendo's console (as well as 3DS).
Below is some additional information, along with a trailer:
Super Mighty Power Man is a genuine 2D action-platformer reminiscent of video games from the late 80's and early 90's. It is like games found on the NES console when fun was more than QTE, lengthy tutorials, and never-ending cinematics.

Super Mighty Power Man (SMPM) is greatly inspired by the famous Mega Man game series as well as others including: Castlevania, Contra, Duck Tales, Kirby, Super Mario Bros. and more recent ones like VVVVVV, Retro City Rampage and Shovel Knight. Besides being a true homage to all games of the NES legendary gaming era, it is above all else a tribute to the renowned Blue Bomber and a testament to our passion for the games that marked our childhood.

Play as Corey, a gutsy kid who accidentally finds himself caught in a most unexpected adventure to save the galaxy. Helped by a clumsy extraterrestrial robot named Robby, and armed with a mysterious device called 'The Power Grasp', Corey must defend the Earth from the spreading evil forces of General Mok. He will need to fight (and jump) his way through deadly environments, hordes of monsters, and other hazardous traps to free occupied planets from the tyranny of his enemy's lieutenants.

'The Power Grasp' grants Corey superhuman powers, allowing him to merge with other lifeforms and become one of the many forms of Super Mighty Power Man!
A Kickstarter campaign has also started for Truberbrook, and it's actually already fairly close to its funding target of a bit over $90,000. The atmospheric mystery adventure game will appear on Switch if the goal is reached.
We have the following overview and trailer:
Imagine yourself on a vacation to Europe in the late sixties. Now, picture yourself as a young American scientist; Hans Tannhauser. Yes, that's your name in this scenario. While you're at it, think of Trüberbrook, a remote village in rural, mountain-sloped and densely forested cold-war Germany. Because, that's where you somehow end up after hitting the continent. But who cares, you won the trip in a lottery! Or at least, that's how it seems. But don't fear, instead of getting some rest, you could find yourself having to save the world …

Attention: All of our sceneries are hand-crafted!

Suspense! Mystery! Thrills! After all, it's a single player sci-fi mystery adventure game. We want to keep you entertained!
Join American student Tannhauser, stranger in a strange land
Set in cold-war rural Germany in the late 1960s
Inspired by Twin Peaks, The X-Files, Stranger Things & Star Trek
Indulge in universal themes such as love, friendship, loyalty, self-discovery and dinosaurs
Handmade miniature scenery!
English and German localization with full voice acting!
Atmospheric, moody soundtrack
Coming to Windows, Mac, Linux, Xbox One, PlayStation 4 & Nintendo Switch
A likely mobile port later!
Up to 10 hours of super exciting gameplay!
Release scheduled for late 2018 – not the longest wait!
Super Mighty Power Man's Kickstarter is located here. You can find Truberbrook on Kickstarter here.
Leave a Reply