Kid Icarus, StarTropics join Nintendo Switch Online this month; Japan gets Fire Emblem and Yie Ar Kung-Fu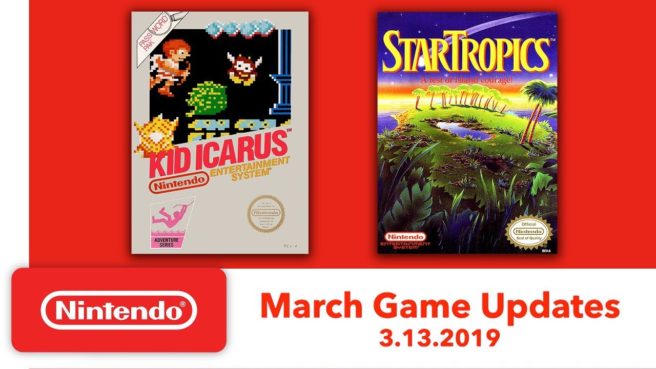 Nintendo has announced the next wave of NES games planned as part of the Nintendo Switch Online service. This month, subscribers will be treated to Kid Icarus and StarTropics.
In Japan, things will be a bit different. While Kid Icarus will be distributed in that region, Star Tropics will not. However, Japan will be getting Fire Emblem: Shadow Dragon and the Blade of Light and Yie Ar Kung-Fu instead.
Here's an overview for Kid Icarus and StarTropics from Nintendo:
Kid Icarus – The evil goddess Medusa has stolen the Three Sacred Treasures and imprisoned the goddess of light, Palutena, in her evil plot to control all. Play as Pit, a young angel who has been entrusted with a magical bow and arrow. Fight against hordes of enemies that swoop from above and below. Secure the Three Sacred Treasures from their evil guardians, equip them and face Medusa in the final battle.

StarTropics – Step into the shoes of Mike Jones, a teenage star pitcher from Seattle, who has come to the tropics to visit his famous archaeologist uncle, Dr. Jones. After being told that his uncle has been abducted, Mike begins a perilous quest in order to rescue him and figure out the mysterious plot behind his disappearance. Luckily for Mike, he meets helpful villagers and finds more powerful weapons as he explores numerous locations and island hops using his uncle's submarine.
And a couple of videos promoting this month's Nintendo Switch Online releases:
The new Nintendo Switch Online games will be available next week, starting March 13.
Source: Nintendo PR
Leave a Reply