Killer Queen Black – full patch notes for version 1.62 (Betelgeuse Update)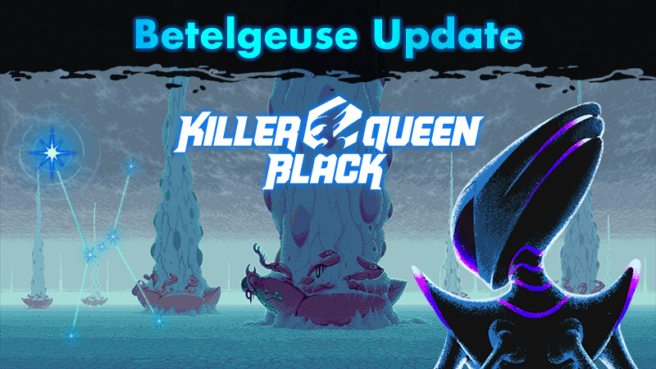 Killer Queen Black received a major Betelgeuse Update this week. Liquid Bit and BumbleBear Games introduced enhanced party features, gameplay improvements, and more.
Below are the full patch notes for version 1.62:
Enhanced Party Features

Adding a second controller locally while in a remote party will now add that player to the party.
Local play now allows you to add controllers/players everywhere, not just on the title screen.
When in a Quick Play or a Ranked Match, players can now see who is in a party together.
Players can now see the status of their friends' parties and join from the Friend List.
Players in a party can now receive invites to other parties.
Added a Party Widget on the main menu to easily access party members, online friends, and privacy.
Recently played shows the last 25 players you played against.

Custom Match Enhancements

Modified Custom Match UI to improve match setup experience.
Players no longer have to be in a party to join a Custom Match.
Players can now back out of Custom Match "Meet Thy Family" and return to the lobby.
Inactivity timeout on Custom Match has been increased to 10 minutes.
Custom Match now has multiple ways people can join:

Create a code that allows any player to join.
Set the Match Privacy settings to "Friends" to allow players to join straight from the friend list.

Improved voice chat in Custom Match to allow players to separate out voice as follows:

Match Chat: All players in a match can chat in both game and lobby.
Team Chat: Chat is limited to teams during the game, but all players in the lobby.

Parties now have multiple privacy settings enabling players to join together by:

Invite Only: Players can only join your party via an invitation.
Friends: Friends can join your party without an invitation.
Friends of Friends: Friends of friends can join your party without an invitation.

Gameplay Enhancements

Added a new map: "The Nesting Flats"
Changes to The Helix Temple:

Top gates have been moved further apart.
Top berries take slightly longer to reach.
The central berry pile is harder to deplete quickly.

Added a new special win condition frame.
Winning teams can now clap as well as dance in Post Match.
Speed upgrade now affects vertical momentum for soldiers.
Worker jump now has more variable upwards velocity based on button press length.
Berry throws slightly more powerful.
In-Game chat widget now separated by team side.
New intro animations for players on the "Meet Thy Family" screen.
New VFX added to gameplay.
Various other UI and UX improvements including Friend List and Leader Board performance enhancements.

Stats update

Berry throw-ins are now calculated in the following ways:

Count it as +1 berry for the worker who threw it in the hive, in the following situations:

It does not touch anything before going in.
It bounces off a wall and/or ceiling first, but no other player.
It skids along the floor before falling into a berry hole without touching another player.
It bounces off an enemy player first.
It bounces off another berry bouncing around the hive.

Count it as a +1 for the last player to touch the berry in the following situations:

Berry was thrown by a worker and it hits their teammate before going into a hole.
Any player (queen, soldier, or worker carrying a berry) touches a berry and it flies into a hole in the hive. Could be with their body or with their weapon (ie mace).
A berry is pushed into a hole by another berry that was touched by a player.
Leave a Reply