Kimishima on approach to mobile titles, Cygames and Dragalia Lost, overall lineup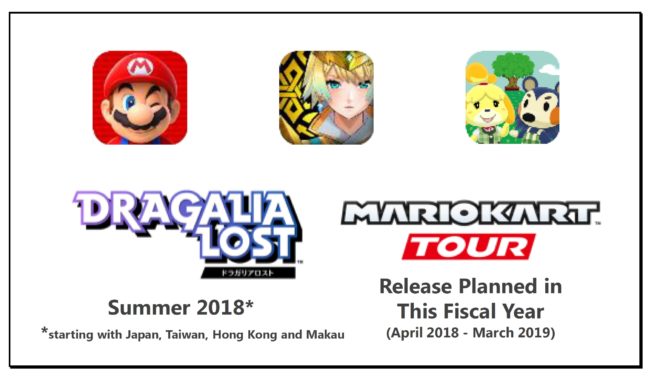 This information comes from Nintendo's Tatsumi Kimishima…
For the smart-device business, we will continue the services for existing applications while also releasing new applications in order to increase Nintendo's presence in this business. The efforts we have made to date have yielded certain responses to our goal of expanding the number of people who have access to Nintendo IP. Even so, we have not reached a satisfactory profit point yet, so our goal is to further expand the scale of this business to develop it into one of the pillars of revenue.

Today, we announced the partnership with Cygames for a new gaming application for smart devices, aiming to bring to life the shared vision of a new gaming experience with worldwide appeal. As a result of this partnership, Nintendo will release Dragalia Lost, an all-new original gaming application, in the summer of 2018, starting with Japan, Taiwan, Hong Kong and Macau. With the support of Nintendo's group companies, it will launch in North America and Europe as well. The game was designed by Cygames and co-developed with Nintendo. Both companies will jointly operate the game. More information about the game content will be announced on the website today. For the purpose of facilitating the partnership, Nintendo will obtain approximately 5 percent of Cygames's issued stocks mainly through a third party allocation of its treasury stock.

In addition to the titles already described for the smartdevice business, we also plan to release Mario Kart Tour as a Mario Kart application for smart devices during this fiscal year (April 2018 – March 2019). We will work to continuously expand our business through these titles.
Leave a Reply