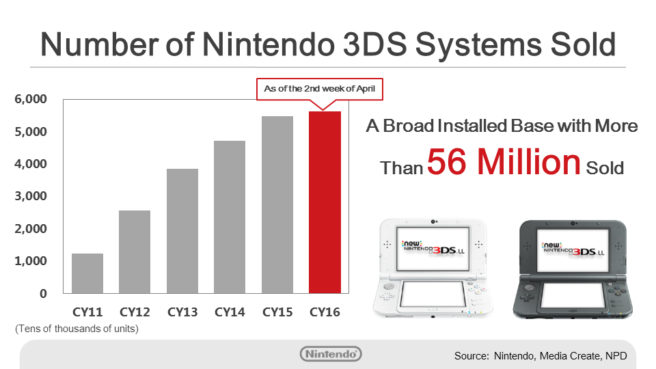 This information comes from Nintendo's investors briefing as stated by president Tatsumi Kimishima…
The worldwide sell-through for Nintendo 3DS systems has surpassed 56 million, reaching an installed base that is sufficient to provide profits for the software business.

There is some variation by region, but we have seen an increase in the percentage of young consumers and female users in Japan, North America, Europe, and other regions.

As for our recent situation, we have been seeing positive signs in Nintendo 3DS software sales in all regions since the start of the calendar year.

This graph shows the Nintendo 3DS software sell-through in Japan from the start of the year through last week, compared with the same period over the last two years.

The sell-through since the start of the calendar year has been lower than in the past two years, but titles that have launched in March and April, such as Dragon Quest Monsters: Joker 3 from SQUARE ENIX and YO-KAI SANGOKUSHI (Japanese title) from Level-5, have increased play activity for young consumers over the spring break and the start of the new school year, leading to a rise in sales.

This is the ranking of video game software sales over the fiscal year ended March 2016 in Japan. Nintendo platform titles hold the top nine spots, including two Wii U titles and seven Nintendo 3DS titles. This proves that the Nintendo 3DS platform continues to hold a prominent position in the Japanese video game market.

Also of note, the top 50 titles make up more than half the sales for the entire market. As I have mentioned in past financial briefings, this represents a continuing polarization of the market between titles that sell well and titles that do not.
Leave a Reply