Kingdom: Two Crowns releasing December 11 on Switch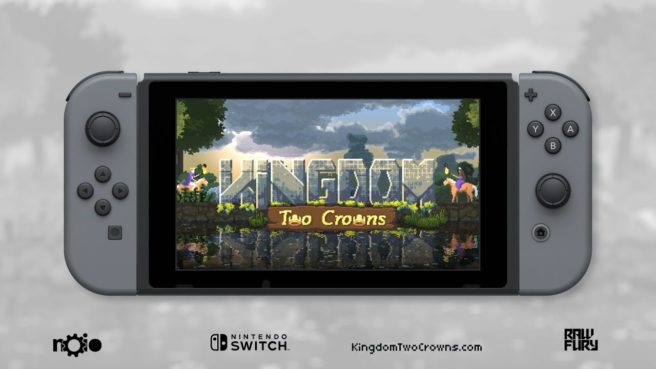 Kingdom: Two Crowns is coming to Switch on December 11, Raw Fury has confirmed. That date applies to all regions as an eShop downlaod.
Along with today's release date news, Raw Fury has unveiled a Japan-inspired setting known as Shogun. Find the full details below.
Kingdom Two Crowns will introduce new incredibly vibrant and unique campaign settings for fans to explore.

At launch, Kingdom Two Crowns will feature an additional stunningly gorgeous Japan-inspired setting we're calling Kingdom Two Crowns: Shogun which will be filled with its own unique set of NPCs, strategies, and mystery. This is on top of the already revamped and reimagined medieval backdrop Kingdom is known for, which will also don its own NPCs and more. Furthermore, additional settings will be coming to Kingdom Two Crowns post launch, each with completely new environments offering their own different items and characters. These aren't reskins, they are settings that offer different strategies to ruling in Kingdom.

This is the most extensive undertaking of Kingdom we have ever attempted but one look at that teaser trailer and you can see it'll totally be worth the wait. Both the current setting and the new Kingdom Two Crowns: Shogun setting overhaul Kingdom's permadeath mechanic and introduce a new campaign style where death will still be your best teacher but you won't be punished as severely as before.

For veteran rulers, there are plenty of new mysteries to solve in our beloved horse riding simulator. For monarchs who have yet to traverse these lands, Kingdom Two Crowns will make you swoon with its remarkable aesthetic and keep you engrossed with its simple yet brilliant strategic depth.
Raw Fury says it is "exploring online for Switch at the moment." If implemented, the game will allow for online co-op. Local co-op is confirmed for Switch thus far.
Leave a Reply