Knockout City to shut down in June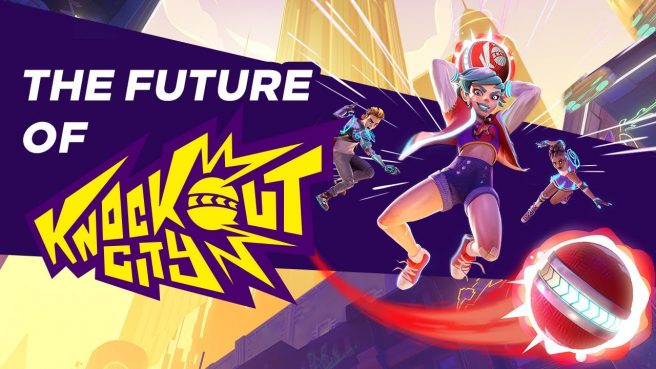 Velan Studios announced today that it will shut down Knockout City in just a few months. On June 6, 2023, the servers will be closed and the game will be no longer playable.
Regarding the decision, director Jeremy Russo said it was a "difficult" one to make, "but a necessary and important one for our studio." An FAQ on the official site further explained that "a lot of our systems supporting long-term player retention are in need of significant changes" which is "virtually impossible to do" as a smaller studio with a limited team size that would also want to introduce new content. "This means stopping development on the Knockout City, and exploring new possibilities in future experiences, whether in Knockout City or a different world," the FAQ states.
There's at least more to look forward to before Knockout City shuts down in a few months. The game will kick off Season 9 on February 28 with its final update, version 9.0. It'll be packed with "six back-to-back events featuring some of our most creative cosmetics yet, fresh new twists on several of our best playlists, a whole event focused exclusively on League Play, and a super-sized two-week Midnight Madness where the community will pick the two Playlists they want to play to close out the last Season." Also planned is a new map, a season-themed Brawl Pass, and a Deep Space Dispatch storyline.
February 28 will also be the day that all real-money transactions will be removed from the game. Players will be unable to purchase Holobux, the Deluxe Bundle, or either of the Teenage Mutant Ninja Turtles Bundles on any platform. However, Season 9 will feature rewards for XP, Style Chips, and thousands of Holobux. Velan will also have big discounts plus "almost every cosmetic we've ever sold will make its way into one of these sale shops." Finally, "the rewards for League Play, Daily Login Bonuses, and the Brawl Pass have also been drastically increased, and the price of the Premium Brawl Pass will be reduced to just 50 Holobux (which you can easily earn in the Free Pass)".
Lastly, here are a couple of other things that are planned:
On May 23, just after our two-year anniversary, Season 9 ends and our final 2-week farewell event begins, which we're calling Thanks for the KOs. This will be one final in-game celebration of Knockout City, featuring TRIPLE XP, massive rewards, and the return of the community's favorite playlist, Superpowers: Power Grab. Then at 12:00 PM UTC on June 6, 2023, the event ends and all servers will be permanently shut down. Since the game requires a connection to our servers to function (even for the Hideout and Private Matches) that means the game will become unplayable on all platforms and you'll be unable to progress past the title screen.

During this final Event, Knockout City celebrations are also taking place outside the game! This includes giveaways galore, a huge, final tournament for our competitive players, some new merch that looks back on the amazing years of Knockout City, a final season of Deep Space Dispatches we'll be releasing in a new podcast feed to wrap up the story, and a bunch of other surprises! Best of all, we'll be releasing a standalone player-hosted version of the game for Windows PCs. Even after the official servers go offline, Knockout City can continue to be played for eternity by fans that want to host their own servers! We'll have more details about all of the events and this final version of the game soon, so be sure to stay tuned over the weeks ahead.
More information about the Knockout City shutdown can be found here.
Leave a Reply