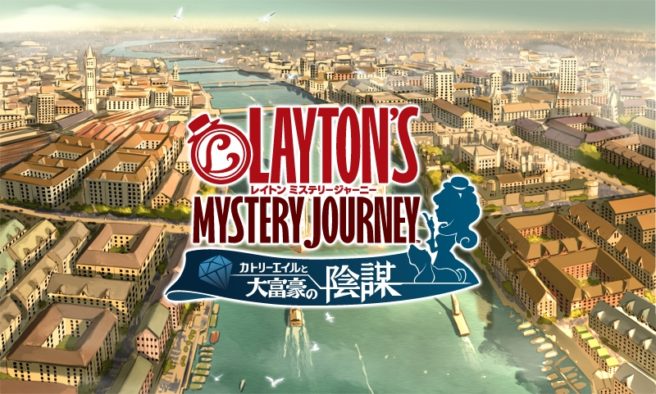 Update: Added in additional details below.
---
Original: Level-5 issued a new media blast for Layton's Mystery Journey today. Along with screenshots, the latest information was also published.
Professor Hershel Layton has suddenly disappeared, so in order to find her father, Katrielle begins a "General Shop and Puzzle-Solving Detective Service" and establishes the Layton Detective Company. She takes on all sorts of cases from finding pets to determining culprits in murder cases, and her bizarre ideas continue to result in her achieving accurate results in solving mysteries. Obtaining such a reputation, the Layton Detective Company continues to receive many kinds of requests.
The basic game flow is to investigate cases in various places, examine "suspicious things" on the screen with the magnifier, and collect Flash Coins, Puzzles, Collections and Information that become key to solving the cases.
– When the magnifier turns orange, tapping there will trigger conversations with citizens or obtain Flash Coins and Puzzles.
– When the magnifier turns cyan, you can zoom in. Some hints are available on zoomed-in screens.
– When the magnifier is covered in smoke, it means tapping there will obtain Collections.
The amount of checked and non-checked magnifier icons on the lower screen indicate the remaining amount of investigation points that still have to be checked. Also, the briefcase which has usually appeared in the series lets you confirm collected information or retry puzzles.
Similar to past Layton games, this entry also has a mini-game that's available after proceeding through a certain point. The mini-game is called "The Ideal Dinner". You listen to requests, check out the requester's favorites by talking to related people, and provide the ideal dinner course to the requester that consists of Hors d'oeuvre, Soup, Main Dish and Dessert. The variety list of those with requests and cuisine will be added as the story progresses.
Episode 01 (Clockwork Sweets)
– One of the hands of the clock on the clock tower Big Ben has been stolen
– This is said to be a symbol of London
– A police officer patrolling the area was able to confirm that the clock hand was safe as of around 11:50 p.m. the night before
– It was discovered that the clock hand was missing at 6:00 a.m. the next morning
– The following day, Ambassador Melarco will visit London from a neighboring country
– At that time, he is to scheduled to receive a pendant that resembles Big Ben as proof of goodwill
– However, if Big Ben is not in its complete state at that time, it will affect the country's good name
– The clock hand must be recovered before the press conference begins
– It is at the scene of the crime that Scotland Yard inspector Aspoiro requests that Katrielle investigates the incident
Characters
– 7 characters make up the "Millionaires" referred to in the game's subtitle
– These are known as the "Seven Millionaires of London"
– Ridley Fremens is the female mayor of London
– Ridley has a tough personality
– She is a woman who respects order; seems to be restraining herself, in some respects
– She plans to liven up the London "Riverside Festival"
– Succeeded her father as one of the millionaires
– Clerk Gospec: 65 year-old multi-millionaire living in London
– He manages a number of recreational facilities such as movie theaters and the like
– The Rabbit Star Theater also belongs to Gospec's company
– After hearing a rumor from Fremens, he takes interest in Katrielle and requests that she investigate and solve an incident that occurred in his theater
– Yanchatta Brothers (Non-Millionaires): important characters that appear in Episode 01
– 27 year-old twins consist of older brother Marc, who works as a mechanic on Big Ben, and the younger brother Reggie, who is a confectioner at London's Yanchatta Confectionery
Leave a Reply