Life simulation RPG Circadian City coming to Switch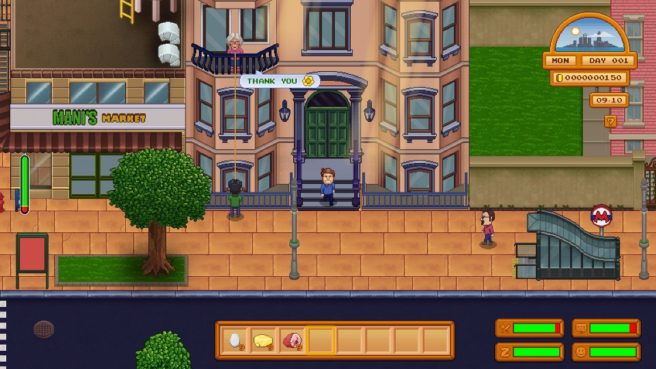 Circadian City, a life simulation RPG in which "players control their character's life 24/7 from building relationships in the day to surreal dreams at night," has been announced for Switch. Publisher Way Down Deep and developer Nowhere Studios will be bringing the title to Nintendo's console in Q4 2020.
Here's an overview of Circadian City, along with a trailer:
Start life from scratch with a real job in Circadian City where fun, friends, and flirtations await. Customize your look with a myriad of possible outfits. Start each day by cooking breakfast before heading out into the open world to work, meet up with pals, shop for the newest book or movie releases, indulge in a creative pursuit such as art, or dip into a dating pool awash with both hetero and LGBTQ romantic options.

Don't expect to make friends overnight, or for acquaintances to remain friendly if the bond is neglected, as relationships require care and attention. Cultivate shared interests, such as gardening, music or movies, by visiting related locations and hanging out to discuss the newest trends. Undertake quests to reap the rewards of becoming closer friends. Making memories with loved ones can offset built-up stress, but don't forget the value of getting a good night's rest.

Explore a procedurally generated dream world full of fantastic creatures and wild adventures reflecting the day's activities. Build a farm and craft items with the power to shape the subconscious. Explore the wilderness and challenge creatures to mini-games and collect the crystals crucial to opening up new missions, solidifying one of 16 personality types, and uncovering a life goal to pursue.

Strike the perfect balance of love and friendship with exploration of the subconscious to live your best life. Dare to dream big, then achieve goals during the day among the colorful and retro stylings of Circadian City's urban utopia.
Circadian City will support English, German, Spanish, Italian, French, Portuguese (Brazilian), and Chinese (Simplified) language options.
Source: Way Down Deep PR
Leave a Reply