Lightseekers update out now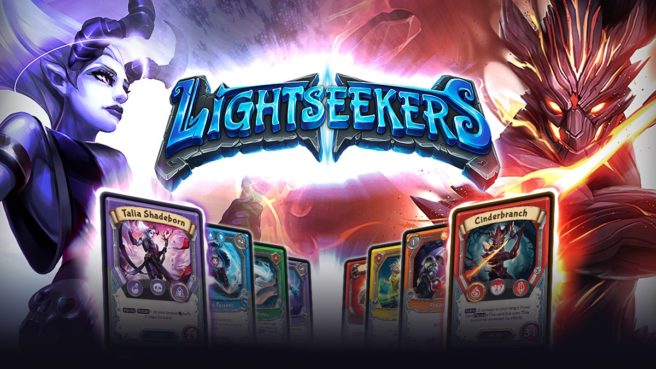 PlayFusion issued an update this week for its trading card game Lightseekers. The team has added Weekly Challenges, a new login calendar, ranked rewards, and more.
Below are the full details:
Today we have a bumper update for Lightseekers; simply put, we've put together a bunch of new ways to get you more stuff, as well as new stuff for you to get! Read on to learn more!

Firstly, we're bringing alternative art hero variants to your deck. These cards can be earned through Ranked Play or through our new Weekly Challenges.

Weekly Challenges

What are Weekly Challenges? Well, every starting every Wednesday, 3 objectives will be given to every player. These Weekly Challenges will be the same for all players, and will take the form of a variety of gameplay related objectives; from playing certain cards to winning games to levelling up. Completing these tasks will earn you points towards your total Weekly Challenge score, and if you manage to score high enough, you'll get exclusive rewards!

There are five milestones of rewards for you to earn. Everyone will have a chance to earn the first two milestones, while the best players of the week will get their hands on the top three!

Login Calendar

We have also added a brand new login calendar to the game. With 28 rewards to collect each month; all you need to do to earn the next reward in the calendar is to log in. If you miss a day, the same reward will be waiting for you the day after. The calendar only advances to the next reward after you have claimed the previous one.

There is a special 7-day calendar for brand new players. However, if you are an existing player, you get these 7 days worth of rewards for free! So the next time you log in, you should find them waiting for you in your inbox!

You can find the login calendar by tapping on the 'Loot' button on the top bar. Here you can view all of the month's upcoming rewards.

Ranked Rewards

You can now earn up to 5 monochrome Hero cards alongside your normal rewards. How many you get from a season depends on the highest League you managed to reach.

We have also added a number of achievements related to Ranked play, so for all of you achievement hunters out there – you're in luck!
Source: Switch news
Leave a Reply